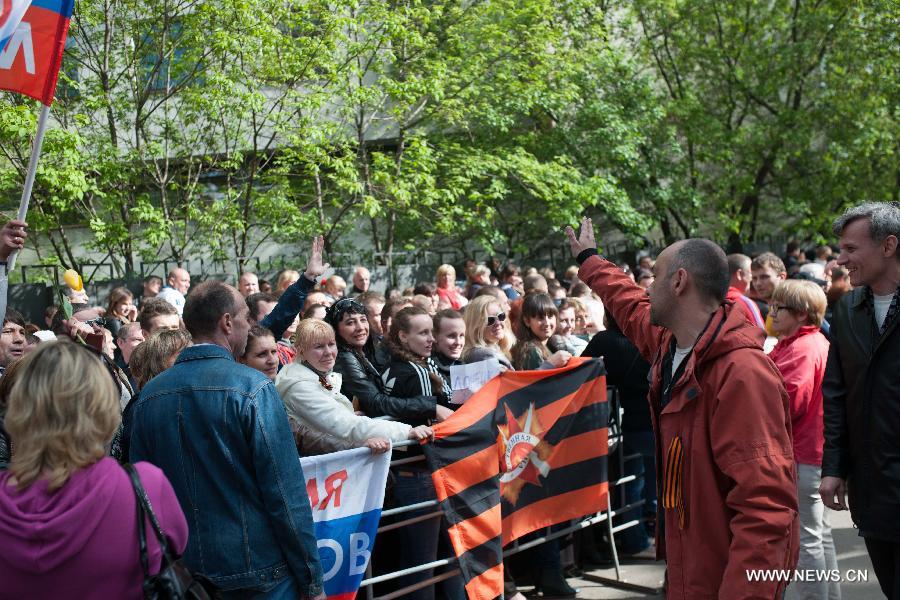 A voter celebrates with queuing voters after casting his ballot at a polling station in Moscow, Russia, on May 11, 2014. A polling station was set up in Moscow for voters from Donetsk and Luhansk of Ukraine on Sunday. Local residents in Ukraine's eastern Donetsk and Lugansk regions went to the polls on Sunday in referendums aimed at seeking independence from the country.[Photo/Xinhua]

DONETSK, Ukraine  - Nearly 90 percent of voters in a key industrial region in eastern Ukraine came out in favor of sovereignty Sunday, organizers said in announcing preliminary results of a twin referendum.
Roman Lyagin, election chief of the self-styled Donetsk People's Republic, said around 75 percent of the Donetsk region's 3 million or so eligible voters cast ballots, and the vast majority backed self-rule.
The preliminary vote count was announced just two hours after the polls closed in an election conducted via paper ballots.
A second referendum was held Sunday in eastern Ukraine's industrial Luhansk region, but no immediate results were released.
Ukrainian authorities and some Western countries denounced the controversial referendums as "illegal."
"The organizers of this criminal farce have violated the constitution and Ukrainian law," the Ukrainian Foreign Ministry said in a statement.
The vote "will have no legal consequences for the territorial integrity of Ukraine," the statement said.
Sergiy Pashinskiy, chief of staff for the country's interim presidency, also called the referendum "a pitiful attempt of the terrorists and murderers to use people of the Donetsk and Lugansk regions to cover up their crimes."
The US and other Western governments said they wouldn't recognize the outcome.
The situation remained calm in most of the two regions as voting got under way, but sporadic clashes were reported in some cities and towns.
According to the Ukrainian Defense Ministry, an army soldier was wounded in a mortar shelling when activists exchanged fire with government troops near a TV tower on the outskirts of the town of Slaviansk.
The clash broke out shortly before voters made their way to polling stations through streets blocked by barricades of felled trees, tyres and rusty machinery.
Earlier in the day, the head of the referendum organizers in Donetsk said the ultimate status of the region would be discussed later and would include the possibility of secession or annexation by Russia.
"We are just saying to the world that we want changes, we want to be heard,'' election commission head Roman Lyagin said.
Donetsk and Lugansk regions became an epicenter of the eastern protests in mid-April, when activists waving Russian flags seized government buildings, declared separatist republics and announced plans to hold a referendum on seceding from Ukraine.
The referendums were held after Crimea joined Russia on March 18 following an independence referendum in the southern Ukraine peninsula, which was not recognized by the West.
On Wednesday, Russian President Vladimir Putin asked the protesters in Donetsk and Lugansk to postpone their referendums and seek dialogue with Ukrainian authorities, which was, however, ignored by the protesters.
Turchynov and Ukraine's caretaker government came to power in February following the ouster of Kremlin-friendly President Viktor Yanukovych after months of protests in Kiev. Moscow and many in Ukraine's east have accused the new government of intending to trample the rights of eastern Ukraine's Russian-speakers.
More than 30 people have been reported killed since Ukrainian forces began trying to retake some eastern cities.