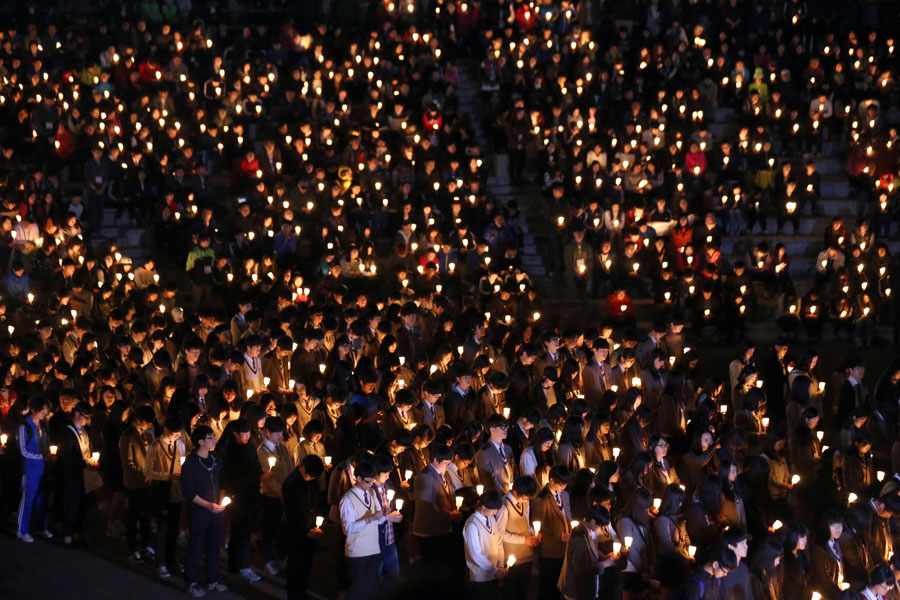 Students from Danwon high school and other people attend a candlelight vigil to wish for the safe return of missing passengers from the South Korean ferry "Sewol", which sank in the sea off Jindo, at a park in Ansan April 19, 2014. [Photo/Agencies]
JINDO, South Korea - South Korea is considering designating the site of the tragic ferry sinking accident as a special disaster zone to provide victims with the government-wide rapid assistance, the emergency management headquarters said Sunday. [Special]
Prime Minister Chung Hong-won will hold a meeting of related ministers Sunday morning at Jindo Island where the pan-government emergency management headquarters is located.
Chung and ministers will discuss whether to designate Jindo and Ansan as special disaster zones as physical and psychological damages continued to grow among victims of the deadly ferry sinking accident.
The 6,825-ton passenger ship, "Sewol," capsized and sank off the Jindo Island, South Korea's southwestern tip, on Wednesday. The upturned ship carried 476 passengers and crew, including 325 students and 15 teachers from the Danwon High School in Ansan, a Seoul suburb, on their way to the resort island of Jeju for a four-day field trip.
So far 36 people have been confirmed dead and 174 rescued, leaving 266 others still missing.
The headquarters said the government-wide assistance should be provided given growing damages to the victims, especially family members of the missing who have gathered at an indoor gym in Jindo Island and waited for news on search and rescue operations.
After deliberating on the issue, the areas will be declared as special disaster zones by President Park Geun-hye.
First bodies retrieved from inside ferry, 36 confirmed dead
Bodies were retrieved for the first time from a sunken South Korean ferry late Saturday night, the emergency management headquarters said Sunday.
Divers retrieved three bodies from inside the hull of the submerged ship at 11:48 pm local time on Saturday, the first such recovery nearly four days after the ferry capsized off Jindo Island on Wednesday morning.
The 6,825-ton ship Sewol departed the western port of Incheon Tuesday night for the southern resort island of Jeju. Among the 476 passengers and crew were 325 high school students and 15 teachers on a field trip.
The divers broke a window glass to enter the passenger compartment, pulling the male passengers' bodies out of the submerged ship.
The retrieval of the three more bodies raised the total death toll to 36, with 266 still missing. The number of the rescued remained unchanged at 174.
Four bodies were discovered Saturday evening in waters near the site of the accident.
Coast guard, navy and private divers strived against rapid currents to get into the hull of the ship, and found three bodies on the fourth floor of the five-story vessel for the first time on Saturday morning.
The third and fourth floors are comprised of passenger cabins, where most of possible survivors may be trapped. Divers succeeded in getting inside the hull on Friday.