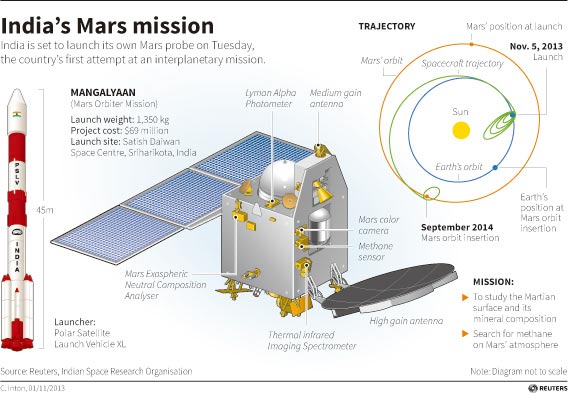 Mission's car-sized probe to look for methane on Mars
India successfully launched its first mission to Mars on Tuesday, with a program showcasing its low-cost space technology.
"It's liftoff," said a commentator on state television as the red-and-black rocket blasted into a slightly overcast sky on schedule at 2:38 pm from the southern spaceport in Sriharikota.
The 386-metric-ton launch vehicle carrying an unmanned probe was monitored by dozens of tense-looking scientists in white lab coats who faced their most daunting task since India began its space program in 1963.
The country has never before attempted interplanetary travel, and more than half of all missions to Mars in the world have ended in failure.
The gold-colored probe, the size of a small car, will aim to detect methane in the Martian atmosphere. It has been hurriedly assembled and was carried into orbit by a rocket much smaller than US or Russian equivalents.
Lacking the power to fly directly, the spacecraft will orbit Earth for nearly a month, building up the necessary velocity to break free from its gravitational pull.
Only then will it begin the second stage of its journey, which will test India's scientists to the full, five years after they sent a probe called Chandrayaan to the moon.
The cost of the Mars mission is 4.5 billion rupees ($73 million), less than a sixth of the $455 million earmarked for a Mars probe to be launched by NASA later this month.
There have been recent setbacks for India too, including when Chandrayaan lost contact with its controllers in 2009. Another launch vehicle blew up after takeoff in 2010.
China and India may work together to explore space instead of being engaged in what was called "aerospace competition", experts said after the launch.
Ye Hailin, an expert on South Asian studies at the Chinese Academy of Social Sciences, said the Indian launch should be interpreted rationally as "a great achievement" of India that also deserves applause from the rest of the world.
"Like the Chinese, Indian people have their space dreams as well," Ye said. "The Mars orbiter, if successful, will increase the human race's store of knowledge and change our life."
Calling outer space "the common heritage of mankind", Foreign Ministry spokesman Hong Lei said on Tuesday that every state is entitled to the right to peacefully explore and make use of space.
"Meanwhile, the international community should cooperate to maintain the permanent peace and sustainable development of outer space," Hong said.
Some observers said competition in aerospace technology between the largest two developing states is growing intense, and is now analogous to the space race between Washington and Moscow in the 1960s.
"In the past century, the space race meant the US against the Soviets. In the 21st century, it means India against China," said Pallava Bagla, one of India's best-known science commentators. "There is a lot of national pride involved in this."
But K. Radhakrishnan, ISRO chairman, denied that the Martian venture reflects competition between New Delhi and Beijing. "We are in competition with ourselves in the areas that we have charted for ourselves," he said. "Each country has its own priorities."
Pang Zhihao, a researcher with the China Academy of Space Technology, said that China is ready to conduct its own exploration of Mars in the near future.
"The carrier rocket Long March 5, with its 25 metric tons of low-Earth orbit carrying capacity and 14 tons of geostationary transfer orbit carrying capacity, can fully sustain our own Mars exploration projects," said Pang.
"Also, our measurement and control systems are functioning well enough to conduct Mars tasks, as seen in the Chang'e-2 lunar exploration mission," Pang said.
Pang said the ultimate outcome of the current Indian venture remains to be seen, as the successful launch was only the start of a yearlong mission. "The difficulty of getting the orbiter into orbit around Mars is equal to hitting a golf ball from Tokyo into a hole in Paris," Pang said.
AFP — China Daily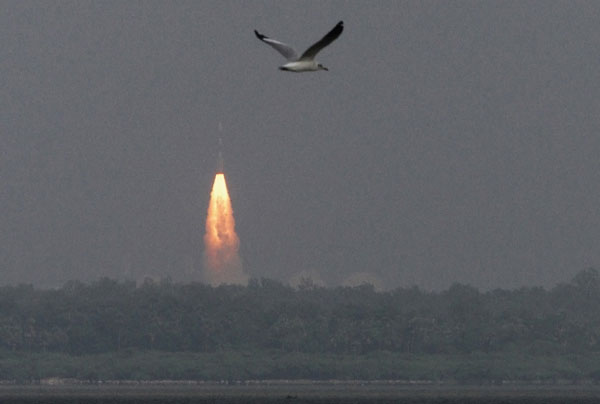 India's Polar Satellite Launch Vehicle (PSLV-C25), carrying the Mars orbiter, lifts off from the Satish Dhawan Space Centre in Sriharikota, about 100 km (62 miles) north of the southern Indian city of Chennai November 5, 2013. [Photo/Agencies]