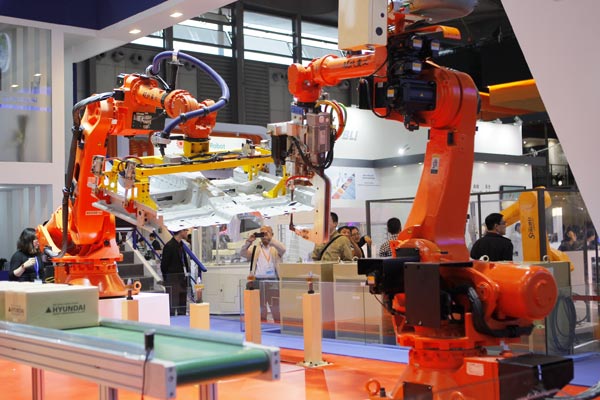 Advanced manufacturing equipment is on display at the 15th China International Industrial Fair, which opened on Tuesday in Shanghai. China will make efforts to widen its technology achievements in high-end manufacturing. GAO ERQIANG / CHINA DAILY
Pressure on resources to force change
Greener growth and energy efficiency will be the key words for the future development of China's manufacturing sector in the face of growing pressure on resources and costs, a senior industrial official said on Tuesday.
"At the moment, 70 percent of Chinese cities couldn't meet the new standard for air quality, while water and soil pollution are becoming a more serious issue," said Su Bo, vice-minister of industry and information technology, during the 15th China International Industrial Fair in Shanghai.
Meanwhile, he said, some manufacturing sectors are losing their competitiveness to Southeast Asian countries because of a diminishing demographic dividend, with the country nearing an reflection point regarding population growth.
"In this context, green and low-carbon growth will be the direction of the future development for the country's high-end manufacturing sector," Su said.
According to data from the China Center for Information Industry Development, China contributes 20 percent of the world's total industrial output.
The country employs 100 million, or one-third of the world's total workforce in its manufacturing sector. The amount is 10 times larger than that of the United States.
But Hu Chunmin, a researcher with the China Center for Information Industry Development, said China's manufacturing sector is big but not strong.
One problem is in the utilization rate of capacity. The number is 78 percent in the US and 85 percent in Japan, but generally below 75 percent in China, meaning more than a quarter of the country's industrial capacity is idle, Hu said.
But at the same time, China's energy consumption as a share in global volume climbed from 6 percent in 1980 to 20 percent in 2010.
As such an unsustainable development model continues, Hu estimates that China's industrial output growth will see a slowdown in the next three to five years.