Better hygiene needed to combat H7N9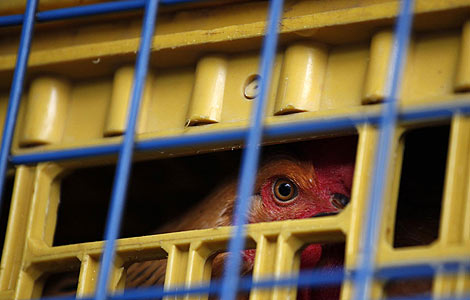 A chicken is seen inside a cage on a truck from mainland China at a border checkpoint in Hong Kong April 11, 2013.[Photo/Agencies] 
BANGKOK - Containment of the H7N9 influenza virus in China, which has killed nine people, will require the implementation of stronger biosecurity and hygiene measures due to its elusive nature, UN experts said here on Thursday.
In the monthly press briefing of the UN Food and Agriculture Organization(FAO)'s regional office for Asia and Pacific, Hiroyuki Honuma, the agency's assistant director-general and regional representative, said unlike the highly pathogenic avian influenza H5N1, the new virus is difficult to detect in poultry, as it produces almost no signs of disease in birds.
"It's likely that farmers do not realize that the new virus is circulating in their flock, because their chickens are not dying off in large numbers like they contracted the H5N1 virus," said Honuma.
"With the virus harder to detect, this means good biosecurity and hygienese measure become even more important to reduce the risk of virus transmission to humans and animals," he added.
The FAO expert said the agency is monitoring the situation closely through its network of country and regional offices and key partners, including the World Health Organization (WHO) and the World Organization for Animal Health.
Subhash Morzaria, regional manager of the Emergency Center of Transoundary Animal Disease (ECTAD) said China has been acting promptly against the new bird with quick notification of human cases and transparecy in releasing information to the public.