Trump to skip annual White House Correspondents' Association dinner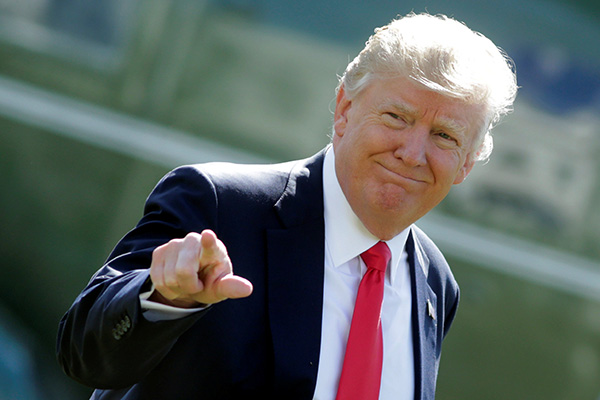 US President Donald Trump points to the media up as he walks on the South Lawn upon his return to the White House in Washington, US, Feb 24, 2017.[Photo/Agencies]
WASHINGTON - US President Donald Trump said Saturday he would not be attending the annual White House Correspondents' Association (WHCA) dinner, one day after his press team blocked several mainstream media from attending a press gaggle at the White House.
"I will not be attending the White House Correspondents' Association dinner this year. Please wish everyone well and have a great evening!" Trump tweeted.
The remark broke away from a long running tradition of the participation of the president and the first lady at the event where politicians, journalists and celebrities gather to toast one another.
In a statement released after Trump's twitter, the WHCA said it had taken note of Trump's position.
Trump attended the event in the past, which became the subject of many jokes made by former US President Barack Obama in last year's gala.
The Trump administration is locked with an ongoing feud with many major US news outlets. Trump has openly criticized the Cable News Network and the New York Times, among others, of fabricating "fake news" regarding his administration, and has labeled them "the enemy of the American people" in a previous tweet.
The animosity between the White House and the press reached a new height Friday, because nearly 10 US and British news outlets were barred from an informing press briefing given by White House Press Secretary Sean Spicer at the White House, raising condemnation from many news outlets as well as the WHCA.