What do pandas, China hands and Nixon have in common?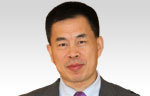 The National Zoo was extremely crowded on a sunny Sunday with people coming to say goodbye to giant panda Bao Bao.
Inside the panda pavilion, visitors took notice of the green crate used to ship the first pair of giant pandas to the United States from China in 1972. Ling-Ling and Hsing-Hsing arrived in it at the National Zoo on April 16, 1972, less than two months after President Richard Nixon made his historic trip to China. The reception on April 20 was attended by then first lady Pat Nixon.
Now aside from Washington, another three US zoos — Atlanta, San Diego and Memphis — also house giant pandas on loan from China.
Bao Bao leaves on Feb 21, the day that also marks the 45th anniversary of Nixon's Feb 21-28, 1972 trip to China.
It is worth noting how giant pandas have helped bring the Chinese and American people closer together, as one American wrote on the National Zoo Facebook page.
A Gallup article on Friday showed how Nixon's visit was a game changer for Americans' views on China back in 1972, something I've heard from many of the China hands I've interviewed over the years.
After Nixon's return, the Gallup poll found that more than two-thirds of Americans believed the trip was successful.
The Gallup article said Nixon travelled the country, touring the great sights of China. "The massive news coverage gave Americans their first good peek into communist China's physical and cultural landscape."
It also quoted Gallup poll inventor George Gallup saying that "the televised view of thousands of Chinese people sweeping snow from the streets in Peking (Beijing), and other examples of mass labor, apparently impressed a considerable number of Americans."
A March 1972 survey found Americans had considerably favorable views of China compared with 1966, in terms of being hardworking, intelligent, progressive, practical, artistic and brave.
For example, 74 percent of Americans thought Chinese were hardworking in 1972, compared with only 37 percent in 1966.
Nixon's presidential job approval rating also shot up from 49 percent in January 1972 and 53 percent before the trip in February to 56 percent upon his return.
Many of the China hands I've interviewed also recalled that important moment.
Nicholas Platt, a former president of Asia Society, was a 35-year-old junior China specialist at the US State Department at the time. He videotaped the famous handshake between Nixon and then Chinese Premier Zhou Enlai at the Beijing airport during that visit.
Platt told me years ago how thrilled he was because he had finally landed in the country he had studied for more than a decade. He wanted to toast Nixon, telling China Daily that "our careers all depended on China and the US getting together, so we had a vested interest."
For Jan Berris, vice-president of the National Committee on US China Relations, her first job at the committee was to prepare for a return visit in April 1972 by China's table tennis (ping pong) team, following a trip to China by the US table tennis team in 1971.
Berris made her first trip to China in June 1973. She recalled in an earlier interview with China Daily: "It was very different and very calm then… I remember vividly that Michael Oksenberg (another China hand) and I, who were co-secretary-generals for the group, were having an argument in the middle of Chang'an Avenue outside the Minzu Hotel. We were arguing in the middle of the street for over 20 minutes and the only things that were going by were bicycles and some donkey carts."
Jeffrey Bader, now a senior fellow at the John L. Thornton China Center of the Brookings Institution, was not a China studies major. But he said that as a graduate student, he was interested in Henry Kissinger and Richard Nixon's trips to China in 1971 and 1972.
"The China relationship seemed like both a very exciting one and a historically important one, and one that would be good to be associated with," Bader recalled in an interview with China Daily in 2015.
For Richard Solomon, a former assistant secretary of state for East Asian and Pacific affairs and now a senior fellow at the Rand Corp, it was then National Security Advisor Kissinger who in 1971 invited him to join the staff of the National Security Council.
He left his job teaching Chinese politics at the University of Michigan and started his new work in September 1971, two months after Nixon announced Kissinger's secret trip to China.
I am not sure why these thoughts would come to mind together. One thing seems to be sure: Nixon, giant pandas and China hands have all played a positive role in the China-US relationship.
Contact the writer at chenweihua@chinadailyusa.com.