Trump calls on Netanyahu to 'hold back' on new settlement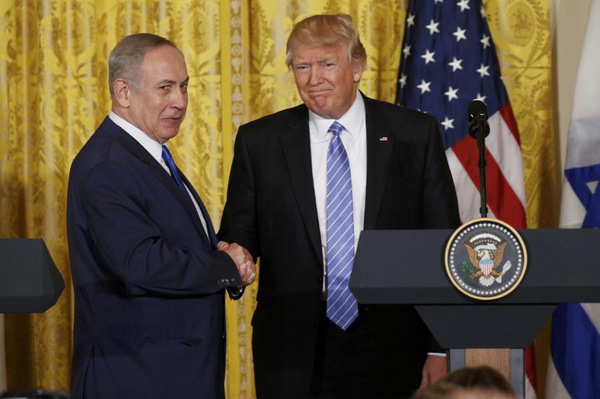 US President Donald Trump (R) greets Israeli Prime Minister Benjamin Netanyahu after a joint news conference at the White House in Washington, US, February 15, 2017. [Photo/Agencies]
WASHINGTON - Israel should "hold back" on building new settlement "for a little bit," US President Donald Trump told visiting Israeli Prime Minister Benjamin Netanyahu on Wednesday.
"As far as settlements, I'd like to see you hold back on settlements for a little bit. We'll work something out but I would like to see a deal be made," Trump said at a joint press conference with Netanyahu at the White House before their meeting.
In response, Netanyahu played down the issue of settlement building.
"I believe that the issue of the settlement is not the core of the conflict, nor does it really drive the conflict. I think it's an issue that has to be resolved in the context of peace negotiations," Netanyahu said.
Israel approved last month the construction of 3,000 housing units in West Bank settlements, amidst a spate of settlement expansion in the wake of Trump's inauguration.
Israel's settlement-building in disputed territory is a major dispute between the Israelis and Palestinians. The settlements are illegal under international law because they are built on lands seized by Israel in the 1967 Mideast War, where the Palestinians wish to form their future state.
The former US administration criticized Israel's continuous expansion of the settlements, which it considered as a major obstacle to peace.