Home / World / Kaleidoscope
Top dogs vie for blue ribbon at New York show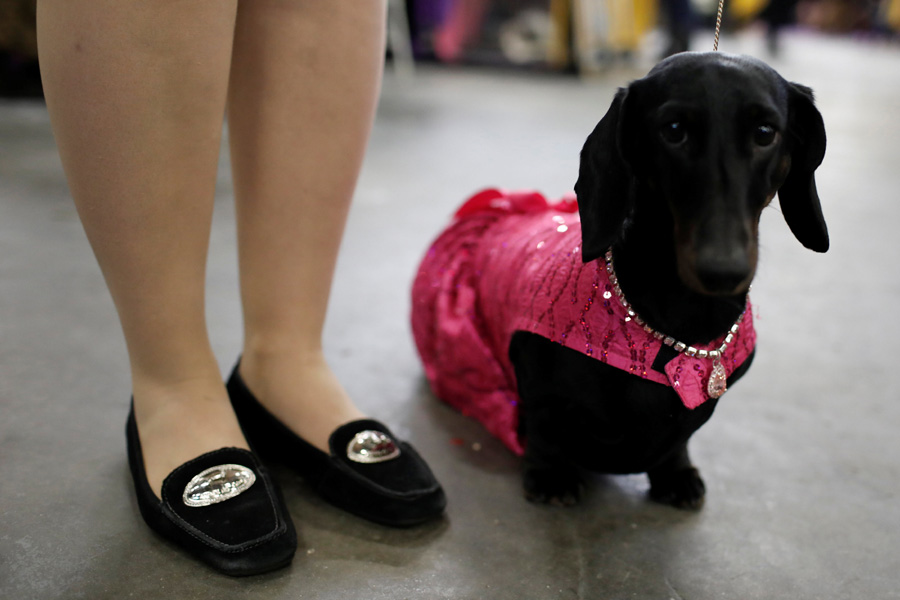 Diamond, a Standard Smooth Dachshund wears a coat and jewels before competition at the 141st Westminster Kennel Club Dog Show in New York City, US, February 13, 2017. [Photo/Agencies]
NEW YORK - More than 2,800 dogs, from tiny Chihuahuas to massive Great Danes, converged on New York City on Monday to compete for the top prize in the storied Westminster Kennel Club Dog Show.
Westminster, the second-oldest sporting event in the United States behind the Kentucky Derby horse race, drew entries from 200 breeds this year, the kennel club said. The final winner will be announced on Tuesday evening.
Dogs from 49 states and 16 foreign countries are in this year's show, where they are judged on characteristics specific to their breeds.
Individual breeds are judged during the day, with the winners of each moving on to group competitions on Monday and Tuesday evenings. The winners of seven groups then compete for the final "Best in Show" award on Tuesday.
Canines belonging to the hound, herding, toy and non-sporting groups were being groomed and crated backstage at Madison Square Garden on Monday waiting to take the floor.
"I don't expect her win in her group. I just want her to show well so people can see what a great breed she is," said Pennsylvania handler Kathy Schwabe of her 15-month-old Cirneco dell'Etna, named Amy Bella, who chewed on her favorite stuffed bird as a pre-game treat.
The Cirneco dell'Etna, a small-sized hound originally bred in Italy for rabbit hunting, first became eligible to compete in Westminster in 2015.