Retailers cash in on festival of love
Whether you've just fallen in love or have been in a relationship for years, getting a decent present online for the Valentine's Day has become a new norm to celebrate the holiday of love.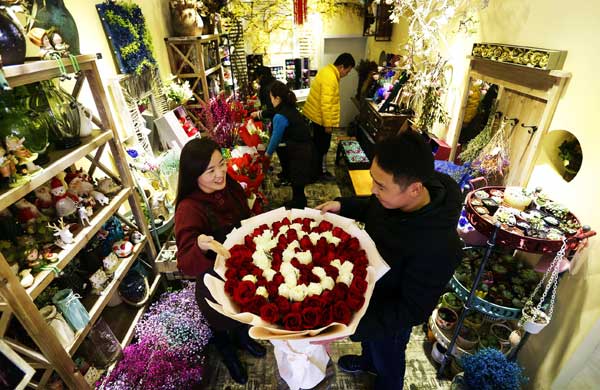 A flower shop staff member introduces flowers to a customer in Hengshui City, Hebei province February 12, 2017.  [Photo/Xinhua]
Flowers are sure to set the heart a flutter during the romantic holiday. With Feb 14 around the corner, searches for flowers on Alibaba Group's online sites Taobao and Tmall jumped six-fold, the company said on Monday.
Residents in Beijing, Guangdong province and Shanghai are among the most avid buyers of flowers, with those aged between 26 to 30 accounting for half of all purchases.
Old-school businesses, from florists to jewelers, are benefiting from the celebration. Roses, bracelets and lipstick are the top three gifts that women hope to receive on Valentine's Day this year, according to statistics from JD.com Inc, China's second-biggest e-commerce player.
Men are eager to receive bracelets, chocolates, watches and perfume from their female companions, said JD.
Residents of Hainan province are rated as being most romantic, with their purchases of wine, flowers and candles topping the list. They also spend the most on flowers, followed by shoppers in Tianjin, Beijing, Shanghai and Liaoning province.
Rings and watches are the most sought-after presents among users of overseas shopping site The Red, which connects Chinese customers with foreign brands and provide direct shipping from abroad.
The Red has established an online community of users that serve as an incubator for word-of-mouth marketing.
For those who want to add a little panache to the holiday, merchants are offering customized perks like preserved fresh flowers, garage kits featuring Japanese anime characters, and imported fragrance lamps and bedding sets.
On Kaola.com, the overseas shopping site under NetEase Inc, online gamers flocked to purchase a model figure portraying a popular game character priced at 599 yuan ($86.7) in the lead-up to the holiday. Besides, imported cosmetics and electronic devices are also popular items.
"We see a growing trend of people seeking personalized gifts and collectibles," said Kaola spokesperson Wang Zheng.
Contact the writers through hewei@chinadaily.com.cn