Home / World / Kaleidoscope
Top dogs vie for blue ribbon at New York show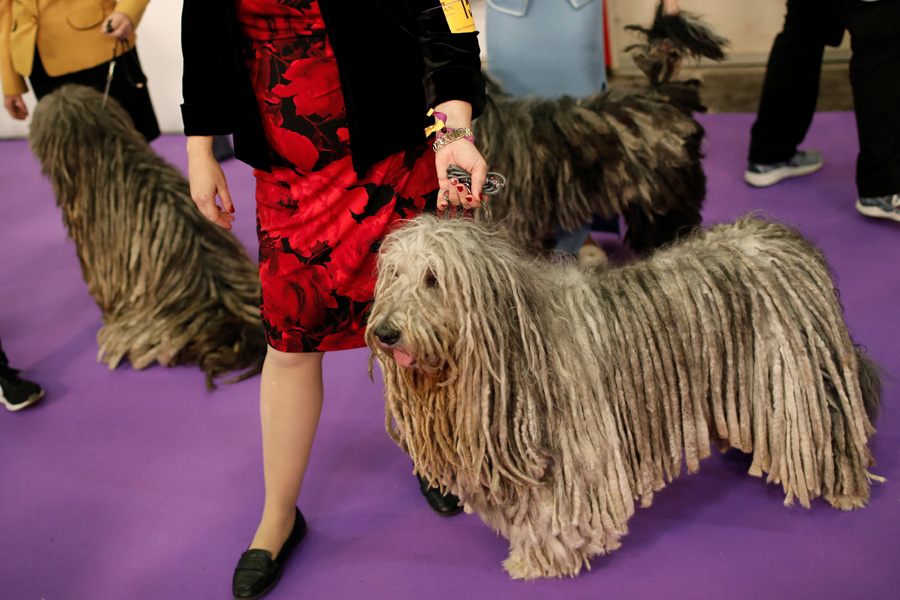 Bergamascos wait with handlers before competition at the 141st Westminster Kennel Club Dog Show in New York City, US February 13, 2017. [Photo/Agencies]
Sporting dogs, working dogs and terriers will be judged on Tuesday.
The sporting group, representing hunting and retrieving dogs, has the largest number of entries at more than 500. The most popular breed in this year's show is the golden retriever, with 65 entries.
There are three new breeds in this year's competition: the American Hairless Terrier, which was bred in the 1970s to hunt rats and other vermin; the Pumi, an ancient Hungarian herding breed, and the Sloughi, a North African sighthound.
While New York is used to seeing thousands of dogs at the show, this year the Westminster Kennel Club also welcomed back the International Cat Association for its "Meet the Breeds" day which took place on Saturday. This was the fourth time the cat association took part in those events.
An additional 330 dogs competed in an agility competition on Saturday, a separate event from this week's judged show. It featured several winners grouped by size, with the overall championship won by Trick, a 6-year-old border collie.
"It's a dream come true," said Trick's owner, Rhode Island-based dog owner John Nys, of being at the show. The collie will accept a ribbon on Monday.