Thousands protest against Trump's immigration policies in US state of Texas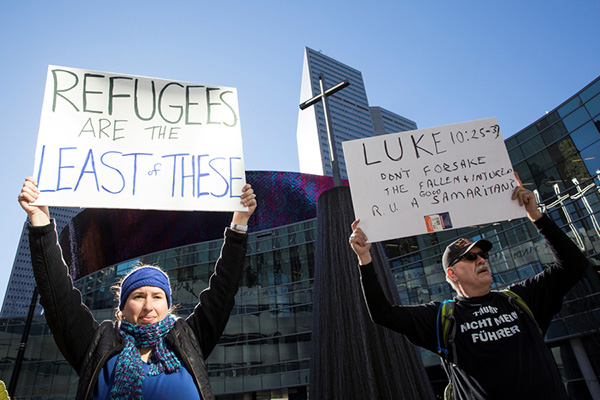 People gather to protest against the travel ban imposed by US President Donald Trump's executive order, at First Baptist Church in Dallas, Texas, US on Jan 29, 2017. [Photo/VCG]
HOUSTON - About 1,700 people rallied in the US city of Dallas early Saturday to show their support for immigrants and refugees.
Police in Dallas, a city in the northern part of the US state of Texas, said that the crowd had gathered peacefully along the streets in downtown.
During their rally, some people carried US flags and chanted: "Say it loud, say it clear, refugees are welcome here" and "Do not normalize hate."
Some religious and civic leaders also took part in the rally to protest US President Donald Trump's immigration policies.
Meanwhile, a protest against Trump's immigration policies was also held in San Antonio, a city in southern Texas.
Trump issued an executive order on Jan 27, barring travelers from Iraq, Syria, Iran, Libya, Somalia, Sudan and Yemen from entering the United States for 90 days and all refugees from entering the country for 120 days.
The order has prompted widespread protests across the United States. On Feb 3, federal judge James Robart in Seattle, Washington state, ruled to suspend Trump's travel ban nationwide, effective immediately. Then the Department of Justice appealed to restore Trump's ban before the 9th US Circuit Court of Appeals.
On Feb 9, the US Court of Appeals for the 9th Circuit, based in San Francisco, ruled against reinstating the travel ban.
Trump said on Thursday that he will rescind his controversial executive order and replace it with a new one next week.