US appeals court upholds suspension of Trump travel ban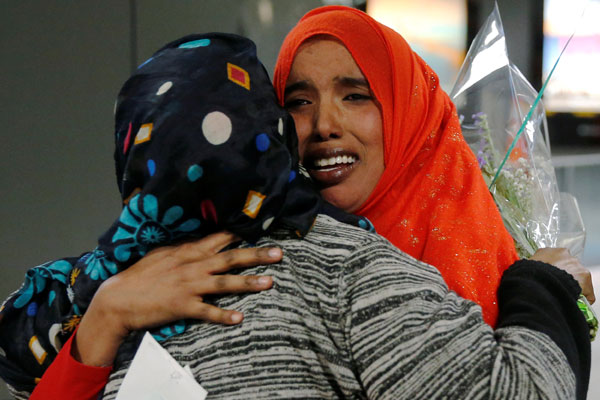 Najmia Abdishakur (R), a Somali national who was delayed entry to the US because of the recent travel ban, is greeted by her mother Zahra Warsma (L) at Washington Dulles International Airport in Chantilly, Virginia, US February 6, 2017. [Photo/Agencies]
Feb 9 - A US federal appeals court on Thursday unanimously upheld a suspension of President Donald Trump's order that restricted travel from seven Muslim-majority countries.
The 9th US Circuit Court of Appeals ruling came in a challenge to Trump's order filed by the states of Washington and Minnesota. The US Supreme Court will likely determine the case's final outcome.
Shortly after the ruling, Trump tweeted: "SEE YOU IN COURT, THE SECURITY OF OUR NATION IS AT STAKE!"
The Justice Department said it was reviewing the decision and considering its options.
Trump's Jan. 27 executive order barred entry for citizens from Iran, Iraq, Libya, Somalia, Sudan, Syria and Yemen for 90 days and imposed a 120-day halt on all refugees, except refugees from Syria who are barred indefinitely.
US District Judge James Robart suspended Trump's order last Friday.
The ruling from the 9th Circuit, which followed a hearing on the case on Tuesday, does not resolve the lawsuit, but relates instead to whether Trump's order should be suspended while litigation proceeds.
Two members of the three-judge panel were appointed by former Democratic Presidents Jimmy Carter and Barack Obama, and one was appointed by former Republican President George W. Bush.
The government could ask the entire 9th Circuit court to review the decision "en banc" or appeal directly to the US Supreme Court.
The three judges said the states had shown that even temporary reinstatement of the ban would cause harm.
In the ruling, they said they acknowledged the competing public interests of national security and free flow of travel but that the US government had not offered "any evidence" of national security concerns to justify banning the seven countries.
They added that the government did not show evidence that any person from the affected countries had perpetrated a terrorist attack in the United States.
Their ruling also said it was unlikely the White House's counsel had authority to amend a presidential executive order and that the government did not show how the order could be administered in parts.
Curbing entry to the United States as a national security measure was a central premise of Trump's 2016 presidential campaign, originally proposed as a temporary ban on all Muslims. He has voiced frustration at the legal challenge to his order.
US presidents have in the past claimed sweeping powers to fight terrorism, but individuals, states and civil rights groups challenging the ban said his administration had offered no evidence it answered a threat.