Two die as winter storm wallops northeastern United States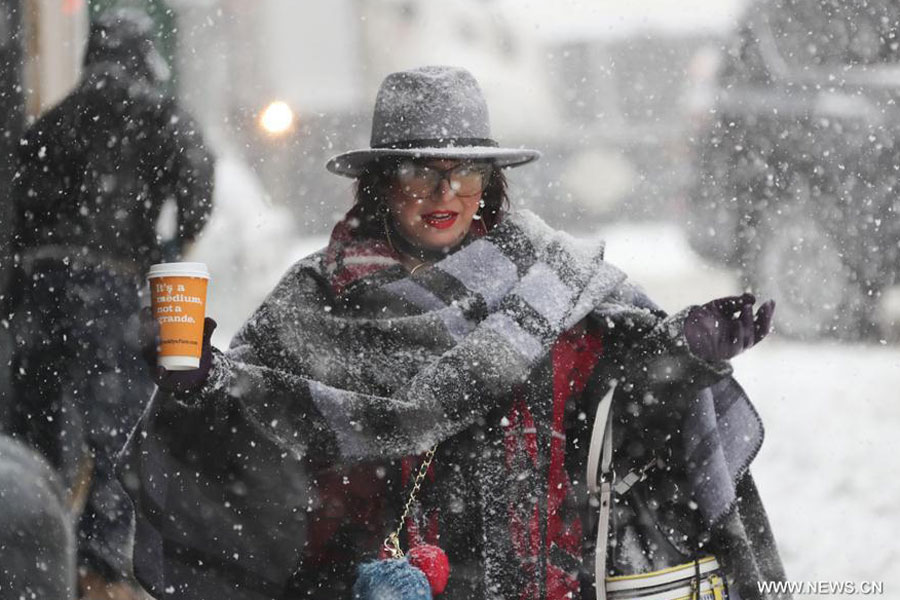 A woman walks in snow in New York City, the United States, on Feb. 9, 2017. [Photo/Xinhua]
BOSTON/NEW YORK - The fiercest snowstorm of the winter slammed the northeastern United States on Thursday, leaving a foot (30 cm) of snow in places, canceling thousands of flights and shutting down schools. At least two deaths were blamed on the storm.
The storm, which came a day after temperatures had been a spring-like 50 to 60 degrees (10 to 16C), had wind gusts up to 50 miles per hour (80 kph) and left roads and sidewalks dangerously slick in densely populated cities such as New York, Boston and Hartford, Connecticut.
The storm's winds reached as far south as Virginia, where a truck driver died after his tractor-trailer was blown off the Chesapeake Bay Bridge-Tunnel, Tom Anderson, the facility's deputy director, said in a phone interview.
A New York City doorman died while shoveling snow as he slipped and fell down a flight of stairs, crashing into a window that cut his neck, police reported.
Some areas experienced "thunder snow," violent bursts of weather featuring both snow and lightning.