France's Eiffel Tower to get glass wall to refresh look, improve security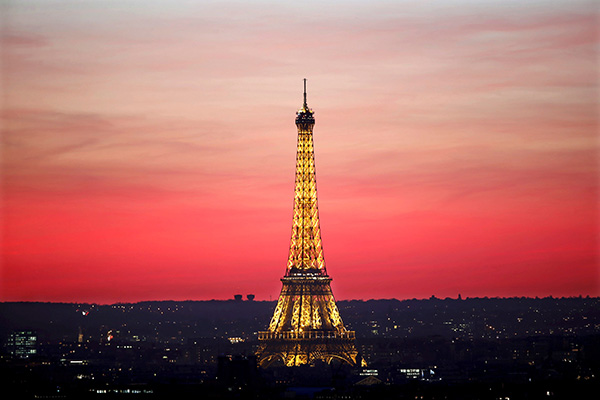 File photo shows the Eiffel Tower at sunset in Paris, France, November 9, 2015. [Photo/Agencies]
PARIS - France's iconic Eiffel Tower will get a long glass wall to appear with a fresh look and improved security in a context of high terror alert, Paris city officials said on Thursday.
Speaking at press briefing, Francois Martins, Paris deputy mayor in charge of tourism, said metal fences which are currently around the Iron Lady ensure its security but "spoil the view."
Unveiling an "adequate" solution to renovate the tower and bolster security at the same time, Martins said the metal fences would be replaced by "glass panels which will allow Parisians and visitors to have a very pleasant view of the monument from the Champs de Mars and Iena bridge."
"... Our intention is to achieve a real landscaping with more fluid controls which will improve the visitors' comfort and facilitate their moving," he added.
However, the project with value remaining undetermined, still needs approvals from both a commission which preserves landmark sites of Paris and the ecology minister.
Last year, Paris city announced a 300-million-euro (320.10 million-US dollar) scheme over 15 years to mainly boost security in and around the monument as risks of terrorist attacks remain high in French capital where 130 people have been killed in a series of explosions and shooting on Nov 2015.