2 more H7N9 cases reported in Shanghai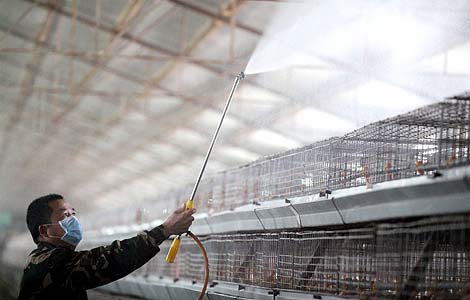 A man sprays disinfectant around chicken stalls in a poultry center in Bozhou, Anhui province, April 10, 2013. [Photo/Xinhua] 
SHANGHAI - Two more human cases of H7N9 bird flu were reported on Wednesday in Shanghai Municipality, bringing the total number of infected people in the country to 33, health authorities said.
A local retired woman surnamed Ma, 76, developed a cough, sore throat and weakness on April 1. On April 2 she developed a high fever and went to the hospital on April 5. Doctors confirmed Tuesday night that she has H7N9 avian flu, according to a statement issued by the city's health and family planning committee.
The patient is now in stable condition, said the statement.
A woman surnamed Jin, 81, who is a farmer, went to the hospital with symptoms of diarrhea and fever of unknown origin, and was subsequently diagnosed with acute enteritis and pneumonia. On Tuesday night, the city's disease prevention and control center confirmed that she has H7N9 bird flu, it said.
Nine people who came into contact with the two women have so far shown no abnormal symptoms.
Apart from the two cases reported in Shanghai, three other new cases were also reported in Jiangsu and Zhejiang provinces Wednesday, bringing the country's total H7N9 infection count to 33 as of 5 p.m. Wednesday. Nine of these individuals have died.
A four-year-old boy, who had been hospitalized for H7N9 influenza, was discharged from a Shanghai hospital Wednesday after fully recovering. He is the first person to have recovered from the disease.