What villagers' rise from poverty looks like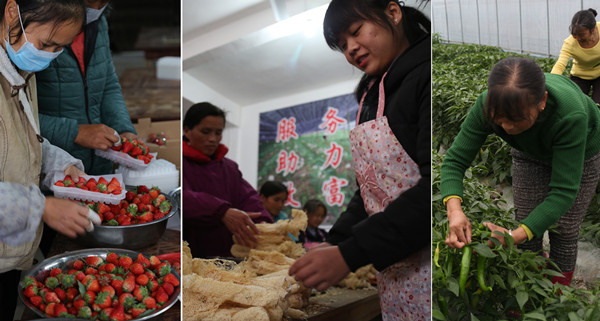 Left: Workers package strawberries at a local production base in Nashan township in Jinggangshan, Jiangxi province. Center: Villagers in Jinggangshan package bamboo fungus for online orders. The packages will be shipped by China Post. Right: Farmers harvest peppers at a greenhouse in Xincheng township. HUANG ZEYUAN/CHINA DAILY
In communities of Jinggangshan, residents learn to create sustainable path to prosperity
Jinggangshan, with its remote, hilly location near the border of Jiangxi and Hunan provinces, was an ideal home in the 1920s for the Communist Party of China and the Red Army-both young at the time.
Now, the area has officially said goodbye to poverty, a major milestone it reached on Sunday, along the country's path toward eradicating poverty by 2020.
The cultural heritage left by the revolutionary era has catalyzed a booming travel industry and led some to a well-off life. The GDP of the city in 2015 was 5.7 billion yuan ($830 million).
Still, the demanding natural conditions dampened some other mountain dwellers' hopes of catching up with China's pace of modernization.
One example illustrates the situation: Although the city has built a road network and a 6-kilometer-long tunnel through a mountain, a drive of more than an hour is still required to reach Shenshan village, one of the most remote communities from downtown.
"When I first visited the village, the road here was a headache. It was all dirt," said Hu Yanxia, 34, who met her husband, Zuo Xiangyun, a villager from Shenshan, in 2002.
They married in 2003. On their wedding day, Zuo carried Hu on his back during the walk home because the pavement ended at the entrance to the village. The car carrying them could go no farther.
To survive in these mountains, full of bamboo and threaded with unpaved back roads, Zuo, grandchild of a Red Army soldier from the revolutionary era, took over the small bamboo business of his father.
The raw materials didn't produce much profit, so Zuo turned to processing the bamboo into various craft pieces-small items like pen holders and slingshots-for greater benefits.
He even purchased a set of laser inscribers and a computer to help customize the pen holders, adding Chinese characters and portraits, as requested by customers.
In February last year, President Xi Jinping paid a visit to Shenshan and visited Zuo's house. Zuo presented Xi items he had made out of bamboo.
Later, Zuo started a restaurant serving local dishes to visitors. His income began to grow.
"Now, my family has around 70,000 yuan a year," he said.
Zuo told China Daily he plans to build a bigger bamboo pavilion to host more customers, and he's thinking about more promotion of local wine packaged in bamboo tubes that he can make himself.