Nostalgic launch of Nokia 3310 may leave out Australia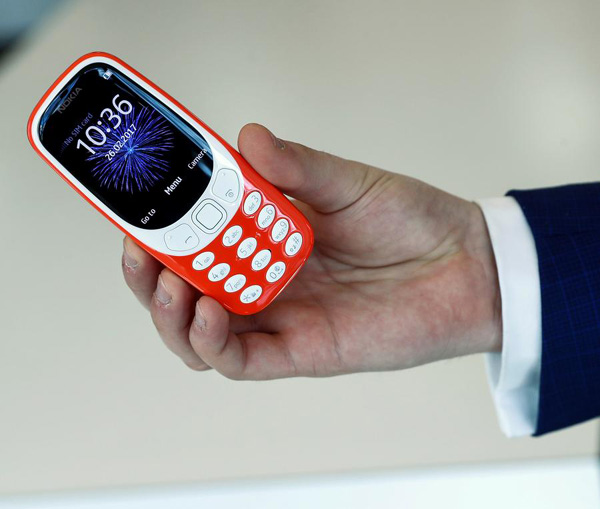 A model holds the Nokia 3310 in London, Britain February 24, 2017. Picture taken February 24, 2017. [Photo/Agencies]
SYDNEY - Referred to as "the unbreakable phone," the Nokia 3310 has been relaunched worldwide on Monday, to the delight of nostalgic tech enthusiasts.
With popular games like snake, huge battery life and an affordable price tag, the product sold 126 million units worldwide, making it the most popular phone in the late 90's and early 2000's.
"I think it was the simplicity," UNSW, School of Electrical Engineering Professor, Jinhong Yuan told Xinhua.
But today's launch in Spain, has hit a snag with the Australian market, because the new sleeker model is designed for 2G networks, which are in the midst of being phased out in Australia as the network is updated to 3G.
The Finnish brand, now backed by electronics firm Foxconn, did state that they will tailor the phone to individual markets, whether that includes Australia however is unclear.
"It depends on quite a few issues, for the phone to be working in the Australian environment it will have to be certified with Australia's frequency band regulation," Yuan said.
"Mobile phones use different frequency bands in different countries, it depends on different standardisations."
Updates to the device will include a colour screen, camera, a micro SD card slot and the ability to play MP3s.
"The love for the brand is immense. It gets a lot of affection from millions and millions of people," Nokia Chief Executive Rajeev Suri said at the launch.
But the marketing strategy to reintroduce a 17 year old phone, doesn't have everyone convinced.
"HMD (Nokia) owns a retro hit and is surfing on the 'vintage' hype to re-create buzz around the Nokia brand," Forrester Research consumer devices analyst, Thomas Husson said.