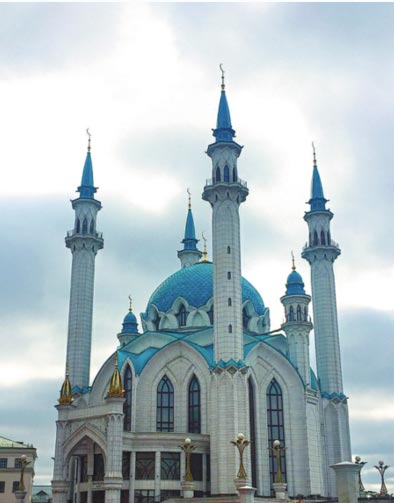 The Kul Sharif Mosque is a landmark in Kazan and is one of the largest mosques in Europe. [Photo by Xu Lin/China Daily]
Kazan, the capital of the Republic of Tatarstan, Russia, is where you can enjoy the integration of cultures, unique architecture and retrace the steps of Vladimir Lenin, the founder of the Russian Communist Party, leader of the 1917 Bolshevik Revolution.
It's only a one-and-a-half hour flight from Moscow. And it is also called as "the sports capital of Russia".
The city, which will host the 2018 FIFA World Cup, is also home to the Kazan Kremlin, that is one of the best places to enjoy a panoramic view of the city and the Kazanka River, a tributary of the Volga River.
In 2000, the Historic and Architectural Complex of the Kazan Kremlin was made a UNESCO World Heritage Site.
It consists of buildings from the 16th to the 19th centuries, with Orthodox Eastern churches and mosques.
The Khanate of Kazan-with Kazan as its capital-was one of the successor states of the Golden Horde-originally a Mongol and later Turkicized khanate established in the 13th century and originating as the northwestern sector of the Mongol Empire-in the early 15th century. And the Siege of Kazan in 1552 was a turning point for the city.