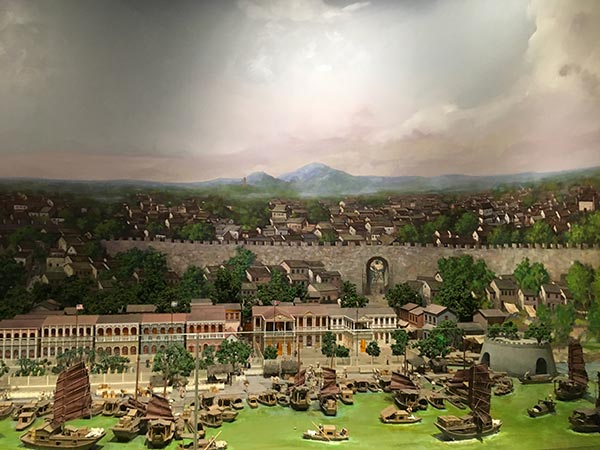 The artwork at the Opium War Museum in Humen, Guangdong province, depicts an enclave by the Pearl River in Guangzhou where Western traders lived in the 19th century. The province was then called Canton. [Photo by Satarupa Bhattacharjya/China Daily]
In his speech at the opening of the 19th National Congress of the Communist Party of China in October, President Xi Jinping said ancient China was a great nation.
But things changed after the opium war of 1840, he added.
"China was plunged into the darkness of domestic turmoil and foreign aggression; its people were ravaged by wars, saw their homeland torn, and lived in poverty and despair," Xi told CPC members gathered at the Great Hall of the People in Beijing for the weeklong leadership meeting, which is held once every five years.
China is a different place today. It is the world's second-largest economy and has the largest standing army. Besides, the conflict between imperial China and the British Empire ended nearly 160 years ago. So why does it still appear as an important historical reference in contemporary Chinese politics?
China Daily's recent interviews with historians who live in China and Britain, and visits to sites related to the opium wars in South China's Guangdong province, formerly Canton, suggest that the lessons-perhaps more than those from other foreign conflicts that followed-have shaped the country's politics, military, diplomacy and society in modern times.