Promoting peace via records of oral history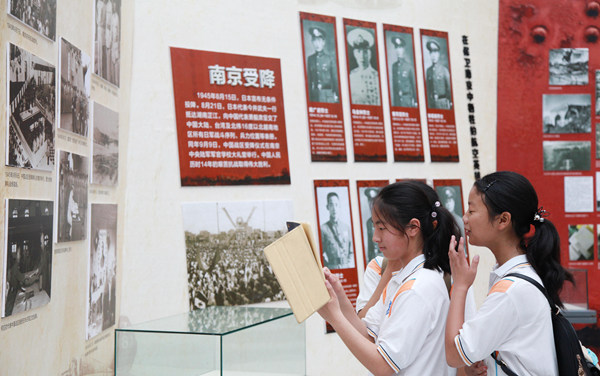 Students visit the Nanjing Anti-Japanese Aviation Martyrs Memorial Hall for an exhibition on the War of Resistance Against Japanese Aggression (1931-45). Provided To China Daily
A Japanese WWII veteran tells young people to learn from mistakes of war
TOKYO - "To pass on the war memories (to the younger generations) is the best way to preserve peace," says 64-year-old high-school history teacher Masami Yamada.
Yamada is engaged in a project of recording the oral history dictated by 92-year-old World War II veteran Nobuo Okimatsu.
"The war memories shall never be forgotten. ... We shall keep on thinking why Japan resorted to war in the past," says Yamada.
Yamada and Okimatsu planned to finish the recording in 10 sessions, and the first session took place just days before China marked the 72nd anniversary of victory in the Chinese People's War of Resistance Against Japanese Aggression in early September.
"I was born in the city of Kure, Hiroshima prefecture, and was there until I was accepted into a preparatory school for the Imperial Japanese Army Academy," Okimatsu says as he begins his story, while Yamada writes down every detail that Okimatsu dictates and asks questions from time to time.
Okimatsu's life largely overlapped with Japan slipping into the abyss of the invasive war. He entered primary school in 1931, the year when the Mukden Incident or the Sept 18 Incident took place in China, a staged event engineered by Japanese military personnel as a pretext for the Japanese invasion of northeastern China.
"Though we were living in a military port city, we heard little about the incident at that time. People only knew that Japan was at war in a very faraway place and our daily life was not influenced. Instead, the port city had a false prosperity because of the war," Okimatsu recalls.
"It was probably because of the social atmosphere at that time, wasn't it? People didn't realize that the war would bring devastating results, so public opinion was not against the war. But when people realized the consequences, they were already so deep in the war, right?" Yamada asks.
"Yes," Okimatsu replies.
The session lasts about two hours, during which Okimatsu describes Japanese society at that time as well as his own life experiences.
"I have been a teacher of history for 37 years. But to my surprise, the more I learn about the war, the more I find I don't know," says Yamada, adding that education on war history in Japanese schools is insufficient.
He says that one of the reasons for him to start recording war veterans' memories is that he still regrets that he didn't ask his late father about his war experiences. His father was also a WWII veteran.
Meanwhile, Yamada is also concerned about the current situation in Japan.
"From lifting the ban on collective self-defense right and the forced passage of the controversial new security laws, to attempts to revise the pacifist Constitution ... all these are because the war memories are fading. I think this is the biggest crisis," he says.
Okimatsu agrees with Yamada. He says that he started to tell his stories to people about 10 years ago, because he "felt the danger of war, as the government is taking Japan further down the road of becoming a country that could fight wars again".
He believes that it is an obligation for those who have experienced the war to promote friendship with neighbors, especially with China, so as to eliminate the factors that could cause wars.
"We have to keep thinking about why Japan resorted to war, and pass on war memories to the younger generations," says Yamada, adding that he hopes to introduce war history to his students.
"Only by facing squarely to that part of the history, can we prevent war from happening again. This is the best way to preserve peace," says Yamada.