Epic war film 'Dunkirk' dominates North American box office in opening weekend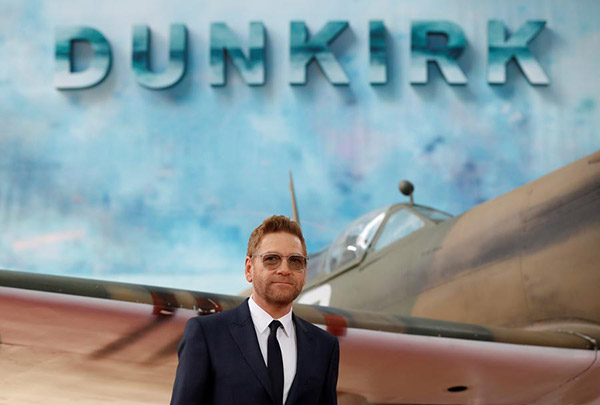 Actor Kenneth Branagh arrives for the world premiere of Dunkirk in London, Britain, July 13, 2017.[Photo/Agencies]
Warner Bros.' presentation of Christopher Nolan's epic war film "Dunkirk" dominated North American box office with an estimated $50.5 million in its opening weekend.
Set during the Second World War, the film concerns the evacuation of the British and Allied forces from the French seaport of Dunkirk as they battled the Nazis in 1940.
"Dunkirk" also brought in an outstanding $55.4 million from 46 overseas markets and nabbing the top spot everywhere for a global combined total of $105.9 million, according to studio figures collected by comScore.
"It enjoyed a spectacular weekend debuting amidst great reviews and a tremendously enthusiastic response from critics and audiences alike...The film should have tremendous 'legs' in the coming weeks as it continues to generate strong buzz with moviegoers," wrote movie analyst Paul Dergarabedian at comScore in an email to Xinhua.
Another newcomer, Universal's "Girls Trip" opened in second place with an estimated $30.37 million. Directed by Malcolm D. Lee, the comedy film stars Jada Pinkett Smith, Queen Latifah, Regina Hall and Larenz Tate. It tells the story of four close friends who go to New Orleans on a retreat in an effort to reconnect.
Sony's "Spider-Man: Homecoming" moved to the third place at the North American box office with an estimated $22.01 million in its third weekend. The second reboot of the Spider-Man film have brought in $251.71 million after just 17 days in North America.
20th Century Fox's "War for the Planet of the Apes" landed in the fourth place with an estimated $20.4 million in its second weekend in North America.
English-language French science fiction film "Valerian and the City of a Thousand Planets" finished fifth with an estimated $17.02 million. The film was released by STX Entertainment on behalf of EuropaCorp on July 21 in the United States and will be by EuropaCorp on July 26 in France.