Miao craftsman passes on Manggao mask-making techniques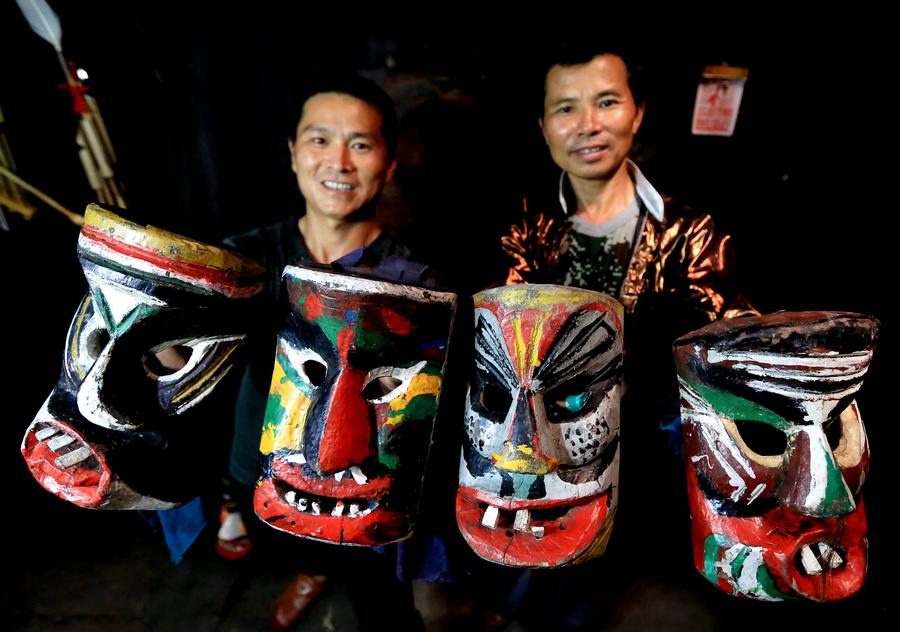 Liang Ronghua (R) and his apprentice, Dong Zhengnian, show off their handmade Manggao masks in Anchui township, Rongshui Miao autonomous county, Liuzhou city, Guangxi Zhuang autonomous region, on July 22. [Photo/Xinhua]
Manggao is a legendary god in the Miao culture, who drives out evil spirits and brings good fortune. During each Spring Festival, a number of Miao villages hold a Manggao Festival, which features performers dressed up as the god to bring good luck to villagers. The Manggao Festival of the Miao ethnic group was listed as an intangible cultural heritage in 2016.
In order to dress up as Manggao, a person needs to wear a mask and a grassy cloak. The cloak is generally made from local weeds picked from the nearby mountain and the mask is always made by craftsmen.
Liang Ronghua, from the Jiman Miao village, Anchui township, Rongshui Miao autonomous county in Liuzhou city of Guangxi Zhuang autonomous region, has made the Manggao mask for more than two decades. The 57-year-old man started to learn how to make the costume when he was just 20 years old, and was honored as one of the 10 best folk artists in the local county in 2012.
In order to make a Manggao mask, a craftsman needs to select the materials, carve the wood, paint on mask and then polish the artwork, which may take a total of more than two days. Liang, who has voluntarily made masks for the village for years, is now teaching several apprentices the mask-making techniques.