Fan Wei and Da Peng team up in comedy 'Father and Son'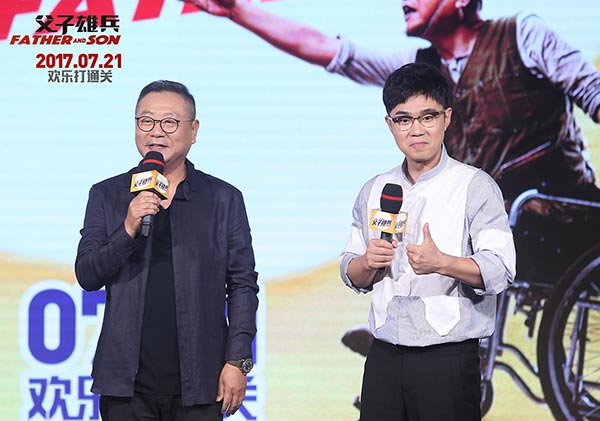 Top comedians Fan Wei (left) and Dong Chengpeng team up in the comedy Father and Son. [Photo provided to China Daily]
Top comedians Fan Wei and Dong Chengpeng team up for the first time in the upcoming comedy Father and Son, which will open across Chinese mainland on July 21.
The movie is about a cheater who plans to use a fake funeral of his father to earn money, but is drawn into a series of troubles. But the adventures unexpectedly ease his tension with his father.
Fan, who has won several best actor awards in some international film festivals, stars the father. Dong, more popular known as Da Peng, plays the cheater.
The cast also includes actress Zhang Tian'ai and up-and-coming actor Qiao Shan.
Yuan Weidong, a former musical director who is recognized by the West, helms the feature-length comedy.
Yuan said the movie will help more audiences to mediate their relationship with parents, during a recent event in Beijing.
Echoing the views, Fan said most Chinese fathers are shy to show their love to the children, and are also shy to accept love from their children.