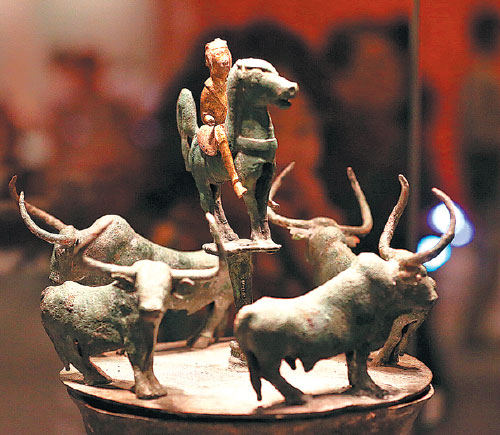 Bronze cowrie container with four bulls and a mounted rider. [Photo provided to China Daily]
A magnificent example is the set of four gilt copper mat weights. Each features a bear and a tiger engaged in a tight tussle, so tight that they are almost inseparable from each other. The tiger's luscious fur pattern is evoked by swirling streaks of gold, further heightening the sense of movement that makes the weights memorable works of art.
For Qin, conquering went hand in hand with assimilation. Han, which continued to expand its territory, forged ahead in the same direction, with a vision and verve recalling the formative years of the Empire of Qin.
Tian says: "During the reign of Han, China never saw the kind of conquering war and bloodshed that took place in the previous era, but if you look at the chariot unearthed from the Han tombs - all those gold and gilt bronze ornaments for the vehicle and the horse, as well as those animal-shaped bronze crossbow holders that were part of the chariot - you would know that the heroism of those bygone times were looked upon with nostalgia.
"One gets the feeling that in the heart of this man from Han is his Qin predecessor, standing proudly on his chariot, hand on shaft, charging through boundless land, unstoppable, ready to take on all and embrace all."
The last item on display in the National Museum's exhibition is a bronze mirror from Han, its eye-bewildering pattern on the back in full display. The intricate design is rimmed by words that read: "This mirror is made in accordance with the laws of the ancient sage and the rules of heaven ... Examine your own countenance with it, to rid yourself of anything inauspicious, and pray for the stability of China."