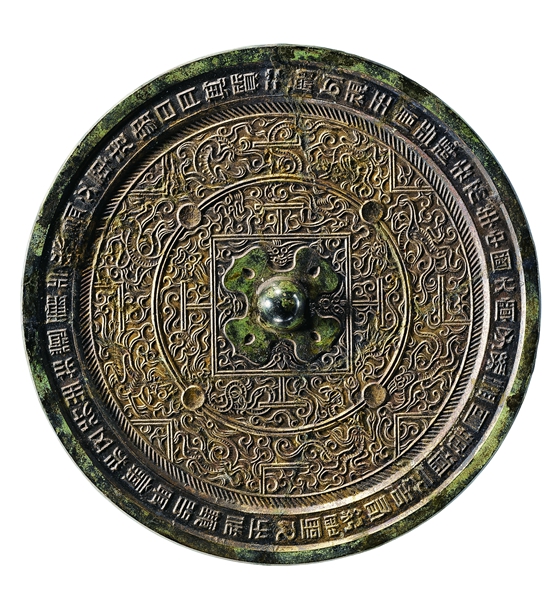 The gilt bronze mirror with circular inscriptions mentioning the term China. [Photo provided to China Daily]
In 221 BC, Ying Zheng (259-210 BC), ruler of the Qin Kingdom, finally defeated all other kingdoms with which his ancestors had been at war for more than 400 years, off and on. Immediately, the strong man set out to dismantle all the hurdles that stood in the way of making his empire a cohesive, if not unanimous, whole. Measures taken included introducing a single currency, unifying weights and measures and simplifying and unifying Chinese characters.
Archaeological finds testifying to such efforts are now on display at the National Museum of China in Beijing, where a pottery measure of 2,000 milliliters is displayed alongside an iron weight with a bronze board whose inscription says that the weight was minted as "a standard for all".
Both items are part of an exhibition titled The Glory of Qin and Han. Although exhibits from the period of Han form the bulk of the show, it opens with a few Qin terra cotta warriors and a horse.
Qian Wei, of Art Exhibitions China, a State-owned cultural exchange organization that previously teamed up with the Metropolitan Museum of Art in New York for a grand exhibition showcasing the civilization of Qin and Han, says: "It's fair to say that the rupture caused by dynastic change between Qin and Han was more than mended by a policy of continuity. Together, the two periods shaped China."
Most exhibits from the Met exhibition are on show at the National Museum of China, and other precious antiques have been added.
Ying Zheng, whose gigantic army once swept across all of China, built roads and canals to facilitate transport. He also decreed that there should be a standard axle width for carriages and that all roads should be built accordingly. Before those standards were introduced, the driver of a Qin chariot would have had a hard time passing through the neighboring kingdom of Zhao, for example.
While continuing to travel on the Qin road, the Hans also searched for their own ones, some of which led them to worlds they had never known of. In about 138 BC Emperor Wudi, the fifth emperor of the Han Dynasty, sent a convoy of more than 100 members on a westward journey that held as much attraction as hazard.