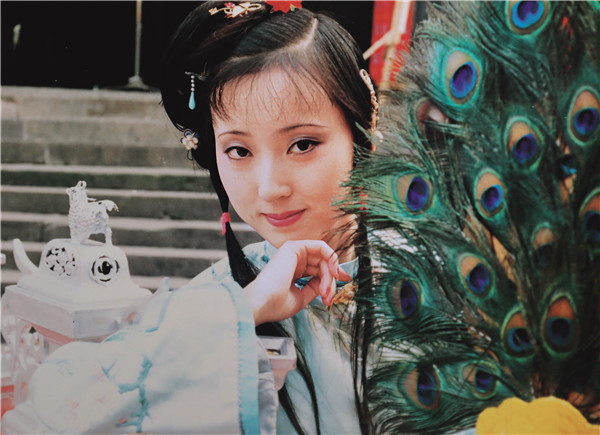 Late Chinese actress Chen Xiaoxu and actor-turned-director Ouyang Fenqiang play the leading roles Lin Daiyu and Jia Baoyu in the TV series. [Photo Provided to China Daily]
What Wang specifically had in mind was the dazzling story and dozens of complex characters that make up the 18th-century novel
Dream of the Red Chamber
by Cao Xueqin. The novel is considered one of China's Four Great Classical Novels, alongside
Water Margin
by Shi Nai'an,
Romance of the Three Kingdoms
by Luo Guanzhong, both written in the 14th century, and
Journey to the West
by Wu Cheng'en, written in the 16th century.
Dream of the Red Chamber chronicles the downfall of the Jia family during the Qing Dynasty (1644-1911) against the backdrop of the country's social and political upheavals.
Earlier in his career Wang, now 86, had directed the nine-episode TV series Di Ying Shi Ba Nian, or 18 Years of the Enemy Camp, about Chinese Communist Party soldiers. The series came out in 1980, the first TV series made on the Chinese mainland.
"At that time, unlike Chinese film, which started in 1905, China's TV series production was in its infancy," Wang says. "When I proposed making a TV series based on Dream of the Red Chamber I ran into a lot of opposition."
He spent two years organizing auditions, searching for film locations and preparing scripts, and no expense would be spared in its making.
Whereas a typical Chinese TV series in those days cost 10,000 yuan to make, Dream See Show, page 15 of the Red Chamber had 5 million yuan lavished on it.
"But you can guess how incredibly difficult it was to get government funding," Wang says.