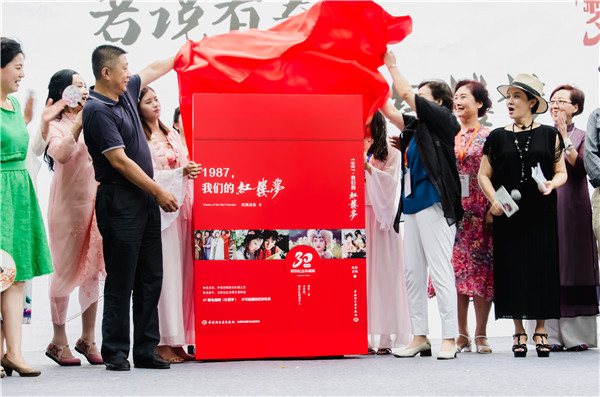 A book titled 1987, Our Dream of the Red Chamber, written by actor-turned-director Ouyang Fenqiang, was published recently. [Photo Provided to China Daily]
The seeds for a groundbreaking Chinese TV period drama that recently celebrated the 30th anniversary of its first broadcast were sown on distant shores
When Wang Fulin visited London it was not Buckingham Palace, the Tower of London, black taxis or red doubledecker buses that left the deepest impression on him. Instead, as he flew home to China, the picture fixed in his mind was a very Chinese red.
It was 1979, and Wang had just spent several days in the British capital with a delegation of the State Administration of Press, Publication, Radio, Film and Television of China. They had visited the BBC at a time when the series Downton Abbey was still years away from even being an idea on a storyboard, but when the British broadcaster had already made a worldwide reputation for itself with its TV period dramas.
One of those was the 1967 adaptation of the John Galsworthy novel The Forsyte Saga, which ran in 26 parts and was broadcast all over the world, and of which Sarah Crompton of the Daily Telegraph in London has said: "It was not the first literary adaptation on TV, but it was longer and more ambitious than anything screened before, and it has come to represent every value and standard to which British TV has aspired ever since."
So when the filmmaker Wang visited the BBC that day, the idea that occurred to him was essentially this: "If the British can do it, why can't we?"
Wang says now: "They had adapted many world classic novels into TV series, and I wondered why we could not do the same with Chinese classics and have them shown worldwide."