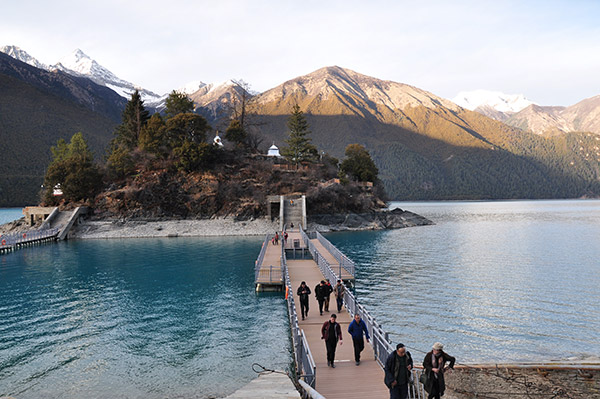 Basum Lake is renowned for the bluish-green water that gives it its name and the lush vegetation in the surrounding land.[Photo by Liu Xiangrui/China Daily]
Isolation poses a huge challenge to a city loaded with must-sees for tourists, but it is not letting that hold it back
Like migratory birds whose return heralds an impending summer, jet aircraft descend on a remote city in Tibet, harbingers of prosperity whose fruits inhabitants are beginning to enjoy.
And even as aircraft home in on the new terminal at Nyingchi airport, opened four months ago, elsewhere on the ground workers are toiling away on a challenging seven year project in which a railway line is being built to link the city with the capital, Lhasa, about 400 kilometers to the west.
If that were not enough to convince you that something is afoot in Nyingchi, a high-grade road connecting it and Lhasa is now being built that, when it is completed within the next couple of years, is expected to halve the present travel time of 10 hours.