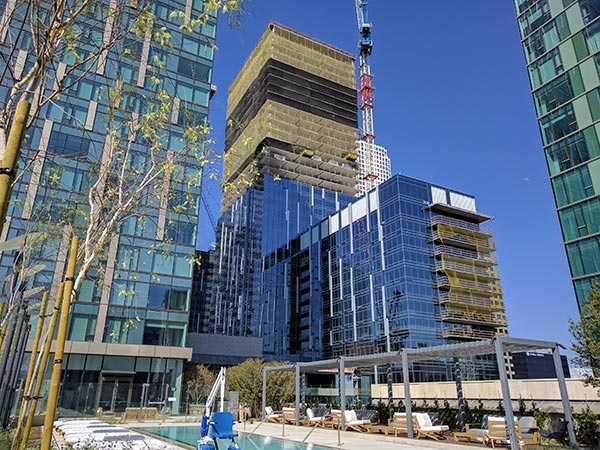 Chinese developers are pumping billions of dollars into the inner city of Los Angeles, adding thousands of new residential units in high-rise towers. [Photo by Lia Zhu/China Daily]
It can be seen in the numbers: At least 20 skyscrapers are being built; more than 5,000 condos are under construction; and 46,000 new jobs are expected from 2015 to 2020 in the hospitality and tourism industry.
Downtown Los Angeles is undergoing a rejuvenation, and Chinese property developers are playing a major role.
Not only is the new construction reshaping the city's skyline, it's also redefining the urban living style by creating a vibrant new shopping, dining and entertainment destination.
The foot traffic in downtown Los Angeles is steady, young adults and families are opting for an urban lifestyle and new restaurants, stores and entertainment venues are taking advantage of the scene.
Five years ago, downtown Los Angeles was a place you didn't want to go at night, said Robert, an Uber driver who gave only his first name. "It was empty at night and weekends. People didn't really live down here."
Robert said he used to avoid driving through the downtown area at night, but now he has many passengers going to downtown restaurants and nightclubs. "It has totally changed face," he said.
K. Allen Anderson, senior vice president and general counsel of Greenland USA, said, "Los Angeles downtown wasn't at all the kind of downtown you see in other international cities, or even other major cities in the US."