Carrying out redesign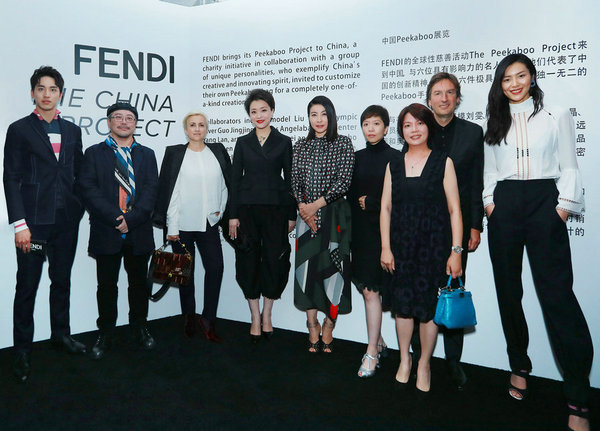 Pietro Beccari (second right), CEO and chairman of Fendi, with Chinese celebrities, including Liu Wen (first right), Liang Yuanwei (fourth right), Guo Jingjing (center), Yang Lan (fourth left) and Tim Yip (second left), who are involved in Fendi's charitable Peekaboo Project. [Photo provided to China Daily]
Luxury label Fendi's charitable Peekaboo Project is in Beijing with a unique exhibition at downtown's fashion landmark Taikoo Li Sanlitun. The exhibition runs through June 30.
For the project, Fendi had six Chinese celebrities reinterpret one of the house's most acclaimed bags, the Peekaboo.
Each celebrity had to make two identical bags. One will be kept by Fendi while the other will be auctioned online and the proceeds will be donated to such charity organizations as the China Youth Development Foundation, Community Roots China, the United Nations International Children's Emergency Fund and China Dunhuang Grottoes Conservation Research Foundation.
The six celebrities discussed their ideas with Fendi's design team and craftspeople. It took a few months to produce the bags.