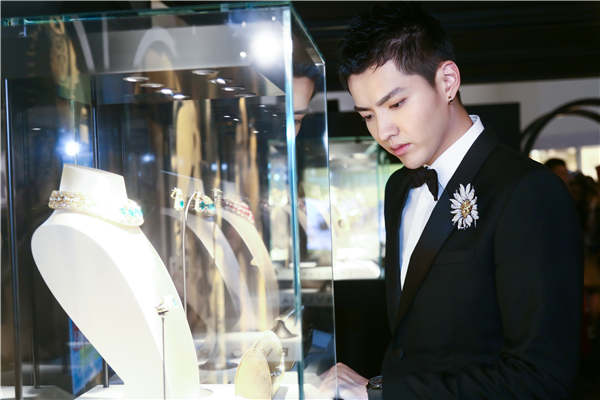 Chinese singer and actor Kris Wu as Bulgari's spokesman. Photos Provided to China Daily
When the representative of a venerable Italian brand crossed paths with a star, he knew he had struck pay dirt
When Bulgari, the 133-year-old Italian jewelry brand, chose the Chinese singer and actor Kris Wu as its spokesman last year, questions were raised about how exactly this chemistry would work.
Antoine Pin, managing director of Bulgari Greater China and Australia, recalls that when he first met Wu the singer was wearing an exaggerated high-jewelry sunflower brooch with a tuxedo, an act he pulled off effortlessly.
"It was like 'Wow!'," Pin says. "It was edgy but cool in a smart way. It could have been stupid or ridiculous on many people, but he has the taste and the feeling for it. It was a very nice encounter. He's got this edge. When you've got this crazy piece of jewelry it's not something classic. You have to be edgy and creative."
Perfect pick
A year has passed since that meeting, and Pin waxes lyrical about Wu, saying he is the perfect pick for the brand. He is widely regarded as a xiao xian rou, literally little fresh meat, or heartthrob, and the brand expects him to have some staying power.
"There is a crazy trend about him, but it's more than that," Pin says. "He's not just 'little fresh meat', he's 'fresh meat' with a future. ... He can be very good aging meat. ... It is your capacity to smell what's going on and to understand the consistency in his character. He's an interesting person, very young and mature for his age. He's in control of who he is and what he does. He's passionate about plenty of things. He's very social, very talkative and at the same time very respectful of anyone. He has the balance of maturity, considering the craziness around him, and the composure."
As the face for watches, Wu is also a way for the brand to approach a wider audience. The world of watches can appear as a little too serious and boring sometimes, Pin says, and Wu has made it more approachable.
"It's a way to energize the world of watches. You can be young, you can be edgy and you can still like watches. He has totally achieved the task. It has actually made older people look at Bulgari jewelry with a fresh perspective and boosted us in a very interesting way."