Luxury hotels for furry guests boom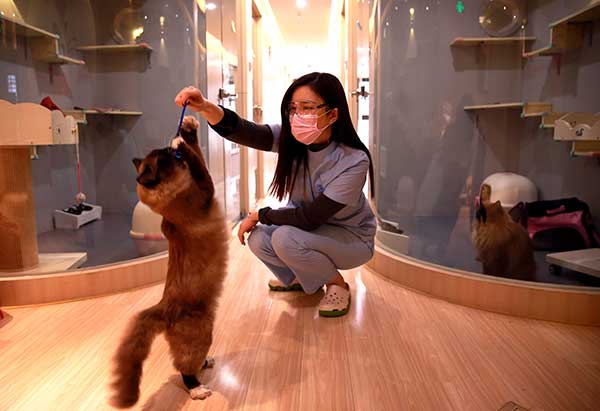 Vivi Wang, the 25-year-old owner of VAC Cat Hotel and Spa in Beijing, plays with a feline guest on Wednesday. Most cats stay from 7 to 10 days while their owners are away for Spring Festival, she said.[Photo by Zou Hong / China Daily]
While the streets of major Chinese cities start to empty as people return home for Spring Festival, businesses providing accommodations for left-behind pets are enjoying their busiest time of the year.
For lots of people, securing a suitable temporary home for a pet - which many now treat as a family member - is just as difficult as getting a train ticket during the year's most important festival. It can be even more costly.
Luxury "pet hotels" in Beijing and Shanghai can be more expensive than hotels for people, and they were fully booked at least a month before the weeklong holiday.
VAC Cat Hotel and Spa in Beijing touts what it calls the best possible care for cats. It has 15 individual modern and spacious suites with catwalks, multilevel platforms and "fun" nooks. Each room only allows one feline guest.
The hotel's normal room rate is 350 yuan ($50) a day, including daily feeding and grooming services. Its rate went up by 15 percent during the Spring Festival holiday season and all suites are booked, owner Vivi Wang said on Wednesday.
"Most cats will stay with us from 7 to 10 days. Knowing their cats will enjoy luxury rooms and services makes people feel less guilty about leaving them behind," she said.