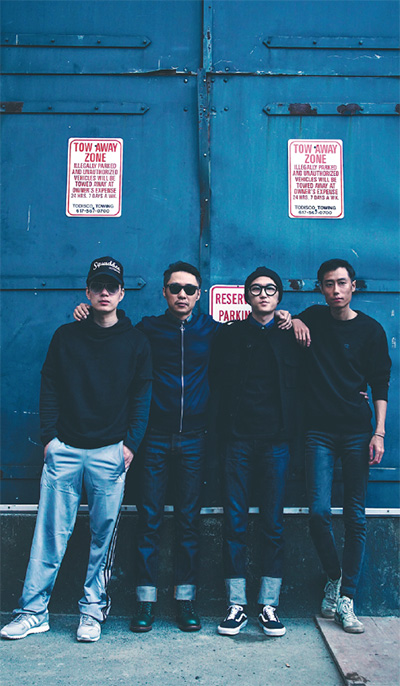 Escape Plan, a Beijing-based rock band will hold a concert on June 17 in Beijing. [Photo provided to China Daily]
Beijing-based band Escape Plan gave a rare public performance at the Xihu Music Festival, held in the last week of May in Hangzhou, Zhejiang province.
Mao Chuan, the lead singer and songwriter of the rock group, says they reduced such shows over the years because they wanted to focus on writing new songs.
It has been more than a decade since Escape Plan broke onto the scene.
Their song The Brightest Star in the Night Sky, which was performed by pop singer Zhang Jie on a Zhejiang Satellite TV program in 2013 and on Hunan Satellite TV in 2014, helped the band expand their fan base and stand out among the country's indie bands. In China, where mainstream music is dominated by pop, the success of rock groups is unusual.
The sudden limelight brought lots of opportunities for the band to perform around the country, including at the Midi Music Festival, an annual outdoor event in Beijing, in 2014.
The same year, the four members of Escape Plan also took a break going to Norway to watch the northern lights.
"We realized we had become famous when our relatives started to ask for our autographs and photos," says Mao, 35, a native of Qingdao, Shandong province.
"It's great to share music with more people. However, with our busy schedules, we now have lesser time with our families or to be alone," he adds.
The song, The Brightest Star in the Night Sky, was written by Mao after he watched a movie scene, in which a man prays to God on a train. The sincere face of the man touched Mao.
The band will give a show at the Workers' Gymnasium in Beijing on June 17. Other than their classics, the band will introduce new songs to fans.
"We haven't performed in Beijing for a long time. So we named the show, Back to Beijing," says Mao.
"As for the venue, we have been dreaming about performing there since we started. Many great rockers performed there and we regard this show as a landmark for us."
The band also wants to dedicate the show to the city where the members now live.
"Things have changed a lot since we first arrived in Beijing more than a decade ago. We fell in love here, went through heartbreaks and have our own families now. The city has witnessed our growth, musically and personally," says Mao.
In 2004, Mao established Escape Plan, along with guitarist Ma Xiaodong, who is his childhood friend and neighbor from Qingdao. After graduating from Beijing Midi School of Music, one of the first contemporary music schools in China, Mao met bassist Wang Xingang and drummer Li Hongtao.
Influenced by Western bands such as U2 and Coldplay, the members of Escape Plan have been experimenting with music. The band's bassist Wang says he recalls riding a secondhand motorcycle with Mao to rehearsals inside a small building in Tongzhou district, in eastern Beijing, in the winter of 2007.
"Sometime we had to junk an idea, which we spent a long time working on, for a better one. It's a long process to bring out the music we want," says Ma, the band's guitarist.
In their early days, the band performed almost every night at live-house venues in the city, such as Mao Livehouse, either opening for other bands or sharing the stage with others.
With their fan base growing, the band went on their first national tour, titled A City Without Sorrow, in 2009.
In 2012, they released their first album, World, which included the hit song, The Brightest Star in the Night Sky. After a long gap, they released two singles, Era-Like Dream and Again, in 2016.
From 2014, the band started performing abroad, including in Japan, South Korea and in February, they kicked off their first tour in the United States, by visiting New York, Boston, Los Angeles and Chicago, among other cities, and attracted more than 4,000 people.
"As a band from China, we felt great to sing our songs to an audience we hadn't met before," says Mao.
If you go
When: 7:30 pm, June 17
Where: Beijing Workers' Gymnasium, Gongti Beilu, Chaoyang district, Beijing; 400-610-3721.