Musicians from home and abroad gather for Beijing festival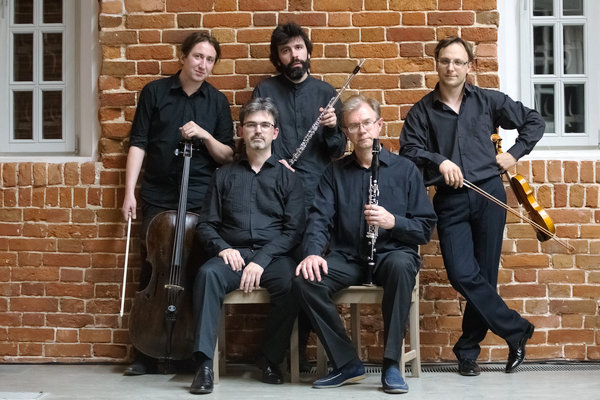 The Moscow Contemporary Music Ensemble is one of the highlights at this year's modern music festival in Beijing. [Photo provided to China Daily]
This year's Beijing Modern Music Festival kicked off at the National Center for the Performing Arts on Sunday with the concert The Far Away Mast, by the Central Conservatory of Music's symphony orchestra. The festival has presented modern music by musicians from home and abroad annually since 2002.
Under the baton of conductor Hu Yongyan, the concert featured works, including Olivier Messiaen's Les Offrandes Oubliees for orchestra, James MacMillan's The Keening for orchestra and Chinese composer Ye Xiaogang's Mount E'mei for the violin, percussion and orchestra, Op. 73.
Violinist Huang Mengla, percussionist Hu Shengnan, tenor Xie Tian and soprano Song Yuanming joined in the opening show, which was watched by more than 1,500 people.
During the weeklong festival, the audience is expected to enjoy shows staged by ensembles from more than 10 countries and get the chance to attend master classes by composers.
"When you see the performance list, you'll know what we are doing with this annual event," says Ye, a renowned composer and artistic director of the festival.
Musicians worldwide meet in Beijing to discuss the development of modern music and education.
Ye, who initiated the idea of the festival, says when he returned to China after studying music in Europe a decade ago, he thought Beijing should have a modern music festival like major European cities such as Paris and Vienna do.
The festival is seen as popularizing modern music, promoting cultural communication between China and the world, and providing a platform to young musicians and composers.
"Some of the composers will come to China for the first time. Their works will be performed at the festival, which is a great opportunity for the Chinese as well," says Ye, adding that Scottish classical composer and conductor James MacMillan and German composer and saxophonist Oliver Schneller will be at this year's festival.
Highlighted ensembles include Lyon-based Les Temps Modernes, the Moscow Contemporary Music Ensemble and China's own Amber Quartet.
A Sino-Indian cultural exchange concert, titled Raga Jasmine, will be staged on Thursday, featuring nearly 20 musicians from both countries, including santur player Tarun Bhattacharya, tabla player Subhankar Banerjee, cellist Chu Yi-Bing and pipa (Chinese lute) player Lan Weiwei.
The festival will end with a recital, titled Awakenings, by the Tianjin Symphony Orchestra under the baton of conductor Tang Muhai, featuring contemporary British composer Joe Cutler's Awakenings for a large symphony orchestra, Russian composer Alfred Schnittke's concerto for piano and strings, and Chinese composer Chen Danbu's Dance of Sleeve Dagger and Warriors for orchestra.
"It's been 15 years since the festival started, and our vision has been fulfilled with many influential musicians from different countries joining us, and many young fans enjoying the music," says Ye.