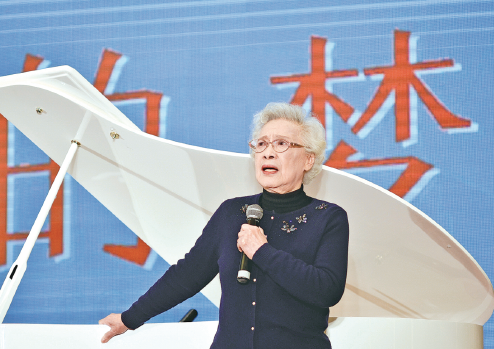 Qin Yi once said that she fled her home in Shanghai not because of the war but because of her conservative family environment. [Photo provided to China Daily]
"I made a mistake, again," said Qin Yi, during her opening remarks at a cultural salon dedicated to her, one day before International Women's Day.
The 95-year-old actress, who has been dubbed one of the four greatest actresses in China, said that the short pause during her recital of a monologue by Mother Lu from the tragedy play Thunderstorm was not an intentional one, but rather a result of her empathy for the fictional character.
Not that anyone in the audience noticed the blunder by the veteran Shanghai actress who has enjoyed an illustrious career that spans close to 80 years.
Established in 2013, the salon is an invitation-only event held at the Equatorial Hotel every month. It focuses on the glorious past of Shanghai, mainly the period in the 1930s when the city's prosperity had earned itself the reputation for being an "Oriental Paris". The topics of the salon range from music, culinary, fashion, architecture to Shanghai dialect. It was even once compared to the meetings that took place at Montparnasse in Paris which were attended by famous artists like Ernest Hemingway, James Joyce and Pablo Picasso.
"We have wanted to feature Qin (as the theme of the salon) since the first day we had the salon," said Chen Gang, composer, co-founder of the Shanghai Colormen salon and a lifelong friend of Qin.
"There is no better way to celebrate International Women's Day than having the most legendary woman in the country share her life stories."
Chen also revealed that it was Qin's friends and fellow colleagues who were attending her birthday party in February who had convinced the famous actress to share her life stories at the salon.
Written by acclaimed Chinese playwright Cao Yu, Thunderstorm is considered one of the most important creations in contemporary Chinese literature. Mother Lu, a character that Qin has played several times on stage and in films, is an upright servant in a corrupted Chinese traditional clan. She is also a loving mother who is miserable because of her failure to disconnect her two children from the clan.
Mother Lu's struggles can also be said to be a reflection of the trials and tribulations that Qin has gone through in life, which explains the connection she feels for the fictional character.