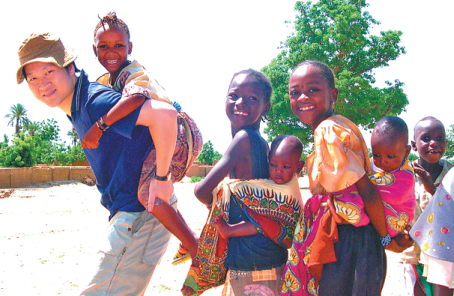 Zhong entertains African children. [Photo provided to China Daily]
Zhong Risheng was determined to go to Africa regardless of his family's protests. The continent's pull was difficult to ignore as was the doctor's passion to help people.
Working as an anesthetist in the Second People's Hospital of Nannning, he joined a Chinese medical team sent to Niger in 2004 without hesitation.
"The country was tackling poverty and poor healthcare, but you can never understand it unless you see it."
At the age of 34, the youngest of the 30 members of the team, Zhong arrived in Zinder, a city in south Niger.
Now 47, he can remember clearly the sights that greeted him.
The very first day he got to the hospital, a patient was sent for emergency treatment.
"I could barely understand what he said and we ourselves were suffering jet lag, but he looked miserable."