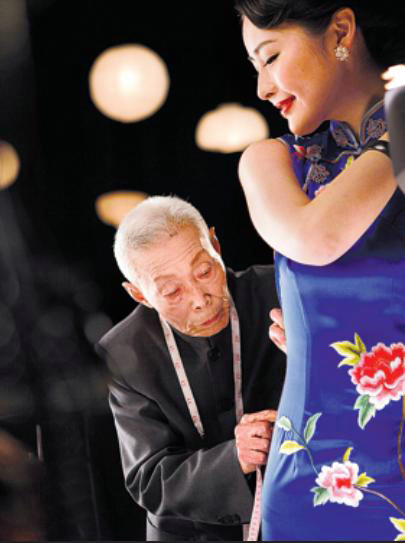 Chu Hongsheng, 99, still works at HanartQipao today. [Photo provided to China Daily]
Chu Hongsheng first started crafting qipao, the body-hugging Chinese dress, in the 1930s, an era where it enjoyed immense popularity and was seen as a symbol of sophistication and style.
The profession was initially deemed as a means of putting bread on the table but Chu eventually fell in love with the artistry involved. Today, more than eight decades since he first picked up the sewing needle, the 99-year-old believes that the qipao is on the verge of a renaissance.
"Nowadays, women wear qipao as an evening dress for big occasions. Many mourn this as the downfall of the qipao, but I see it as a good thing-it's being treated as an art form," said Chu.
"The qipao is about to enter another golden age. On one hand, the nation is increasingly championing craftsmanship. On the other, people today are willing to pay more for the dress, which is definitely a good thing."
A native of Suzhou, Jiangsu province, Chu was sent by his father to Shanghai in 1933 to learn how to make qipao. The latter believed that the job was "the best in the world" because it could be performed indoors regardless of weather conditions.
Furthermore, the great demand for qipao during that time also provided tailors with job security.
Chu has worked in several tailor shops throughout his illustrious career but two of the most famous ones are Zhu Hongxing's Tailor Shop, one of the best in 1930s Shanghai and where he first started his career, as well as Zhou Zhuguang's Hanart.
According to the municipal government's archives, the number of qipao shops in Shanghai peaked at 2,000 in 1933 and these businesses provided employment to some 40,000 people.
Having joined the industry at its peak, Chu was exposed to what he said was "strict and painful" training. He spent three years doing menial chores before spending another three observing master tailors at work. Chu would then spend a decade learning the skills required to make the perfect dress.
"A tailor needs to take 26 measurements of the body. Accuracy is not paramount because the tailor needs to cater some space to accommodate increases in body size. Determining how much leeway to cater is actually the trickiest part of the job," said Zhu Jinyou, one of Chu's apprentices.
Chu has since created more than 5,000 qipao, some of which have been worn by high-profile figures including Hu Die, one of China's most famous actresses, Soong Meiling, and the wives and daughters of Du Yuesheng, a notorious mafia boss.
One of the dresses Chu made, an all-white lace qipao, was even displayed at the 2015 Met Gala in New York which was themed "China: Through the Looking Glass".
Chu was so renowned for his craftsmanship that Chinese singer Meng Tingwei once compared his creations to being "so delicate and fitting, they're like a second layer of skin."
His skill has also earned him the reputation for being "Shanghai's last qipao tailor" because his fans believe there will never again be someone as passionate and skilled as him.
With the influx of ready-to-wear and fashionable Western apparel in the 1950s, the qipao industry started to decline and the number of such shops dropped to about 100, contributing to just 20 percent of the city's apparel industry.
However, Chu's craftsmanship had earned him such acclaim that even the changing landscape had little effect on his business. Even after the 1980s, when the qipao was rarely seen on the streets, Chu was still busy creating dresses.
It was not until 2012, when a fractured leg made it impossible for him to commute to Hanart where he worked as a consultant, that Chu stopped working. In 2015, he resumed his career and helped Hanart hold its first haute couture show featuring qipao in Shanghai.
"I became a qipao tailor in my teenage years because my parents thought this job could feed me. I have been in this profession ever since because I love doing it and feel obligated to pass on this torch to the next generation," said Chu, who is currently training a group of apprentices.
These days, Chu also tries his best to attend qipao-related events that promotes the craft.
"Because of his injury he is usually the last to arrive at these events, but his presence alone is evidence of his passion and support for the craft. Sometimes we feel he is born to make qipao," said Zhou.