Beauty Qi, a high-end Cheongsam customized design company, had annual revenue of over a million yuan in 2015, liangjiang.gov.cn reported.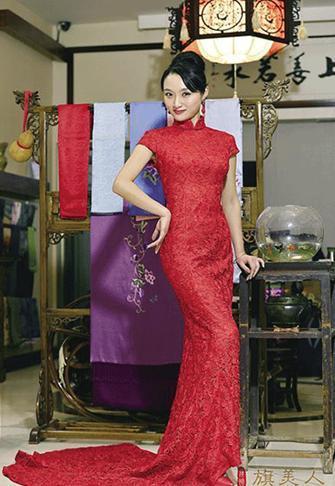 A model presents a customized Cheongsam made by Beauty Qi, a company in Liangjiang New Area. [Photo/ liangjiang.gov.cn]
Beauty Qi was originally the name of a cheongsam shop established by the grandmother of Pi Feiqia, CEO of Beauty Qi, in the 1830s. Back then, it was a customized Cheongsam brand targeting upper class Chinese and diplomatic envoys. However, because of war the cheongsam shop was not able to continue.
"My grandma's cheongsam shop makes cheongsam very mysterious and attractive for me, and I want to build Beauty Qi into a famous brand," said Pi Feixia, who used to be in the European furniture industry.
Pi thinks cheongsam is a combination of technique, culture and art, and good cheongsam needs good handicraftsmen. Pi has gone six times to Shanghai and four times to Taiwan in the past six years to hire veteran handicraftsmen. The designers were able to incorporate fashion into classical design.
Pi has personally taught Chinese cheongsam culture in many companies in Chongqing. She also registered a Chongqing cheongsam association dedicated to developing the inheritance of cheongsam techniques at the Chongqing Civil Affairs Bureau.
Pi noted that Beauty Qi's Cheongsam business is mainly based on word-of-mouth marketing."To make the cheongsam customers more elegant, we hire experts in body shape, etiquette, and tea ceremony," said Pi.
Beauty Qi was the only brand in the Chongqing Cheongsam industry to enter the 2014 Cross Straits Cheongsam Cultural Exchanges Expo. In long term partnership with the world-wide Chinese Association, Pi has also promoted Beauty Qi abroad to offer services to Chinese around the world.
In 2015, Beauty Qi sold 20,000 to 30,000 regular cheongsam and over 6,000 customized cheongsam. The total annual revenue is expected to be over 10 million yuan.
Beauty Qi is popular on different occasions including banquets, ball room affairs and family gatherings. The company exhibited a Cheongsam worth 168,800 yuan at the 2015 Chongqing Cultural Expo and gained a lot of attention.
The orders to Beauty Qi are expanding from young ladies to include older females. The brand is also considering designing cheongsams for children. "We may cooperate with schools to incorporate Cheongsam culture into their courses," said Pi.