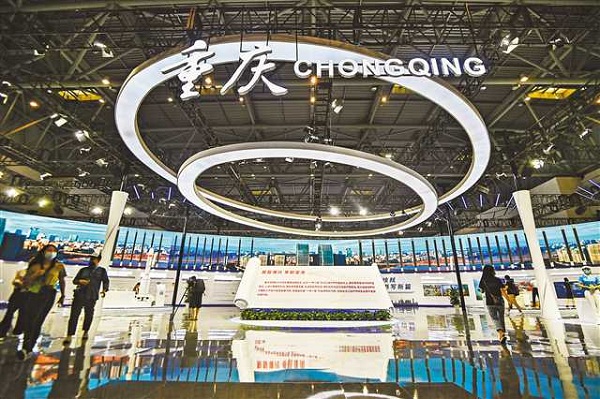 The Fourth Western China International Fair for Investment and Trade (WCIFIT) is unveiled on July 21. [Photo/Visual Chongqing]
The Fourth Western China International Fair for Investment and Trade (WCIFIT) was unveiled in Liangjiang New Area, Southwest China's Chongqing municipality, on July 21. It is a global event participated in by 899 enterprises from 24 countries and regions and will run until July 24.
The Liangjiang New Area Pavilion debuted at the event, demonstrating the new area's role as a strategic open development platform for Chongqing.
It has an area of 800 square meters and is divided into four exhibition sections. There are more than 120 exhibits on display from around 50 high-tech companies.
Liangjiang is a major automobile manufacturing hub in China, boasting 10 whole-car makers such as Changan Auto, SAIC Hongyan, SERES, and Li Auto, as well as over 200 auto spare part suppliers. A stronger intelligent connected vehicle and new energy vehicle industrial cluster is being formed in Liangjiang, and the new area has also enhanced its electronic information sector, which features advanced displays, IC, and intelligent devices.
Equipment manufacturing is a national strategic industry, and Liangjiang currently excels in new energy equipment, robotic intelligent equipment, engineering machinery equipment and rail transit equipment.
In addition to the latest products in the aforementioned areas, other exhibits in the fields of life and health, aerospace and aviation, new materials, energy storage, and digital economy will also be shown at the pavilion.