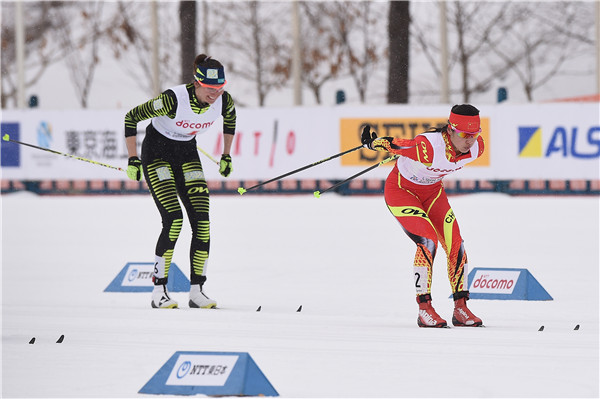 Man Dandan competes in Women's Cross Country 1.4 km Individual Sprint Classical on day three of the 2017 Sapporo Asian Winter Games at Shirahatayama Open Stadium. Photo Bymatt Roberts / Getty Images
Chinese cross country skiing Olympian adds to her list of laurels at the eighth Winter Asiad
"The past 16 years passed so fast. It was like a dream. I have never thought that I would have come this far," said Man Dandan, the gold medalist at the eighth Winter Asiad, when looking back upon her life as a cross-country skier.
Man concluded her games at the Winter Asiad here on Friday. In the 4x5km women's relay, she finished the first leg, helping China getting a silver in the event.
Earlier in the week, she claimed the women's 1.4km individual sprint classical, awarding China its first gold at the Games.
"I'm a contest-type athlete," she said, adding that she always enjoys competition and gets excited when there are a lot of spectators. "I'm the kind of athletes who do well in games, not so well in training," she said.
Man started her skiing life at the age of 11. At first, she did not know how to ski. "I tumbled and felt anxious. I hoped that I could ski smoothly and beautifully like those elder kids," she said.
To achieve this goal, she practiced hard and made progress fast. From 2006, she began to make her appearances in national and international competitions.
She placed eighth in the World Cup cross-country skiing in 2007, and won the title at the National Winter Games in 2008. She also took part in three Winter Olympics.