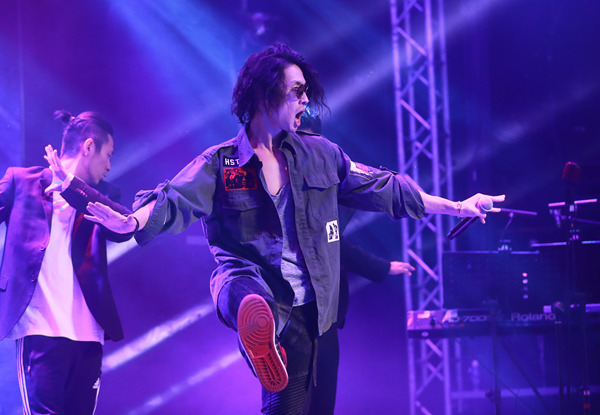 Vanness Wu performs live at the Tango club. [Photo by Zou Hong/China Daily]
Vanness Wu emerges from the Beijing office of his record company, Universal Music Group, at noon, shakes hands politely and sits down quietly.
The night before, he performs live at the Tango Club, a popular venue in Beijing, in support of his latest album, MWHYB, his first in two years.
Performing around 15 songs in front of 100 screaming crowds, Wu dances like there is no tomorrow.
"I went to bed around 4 am. I was decompressing," says Wu.
"After the show, I had dinner, hung out with friends. When I got back to the hotel, I started doing other stuff to forget about what had happened. I just zoned out.
"It has been five years since I did a show like yesterday. I really enjoyed the intimacy and interaction with the fans," he adds.
"I was nervous because I did not know what to expect. Chinese audiences are mostly very quiet but at the end of the night, we both had fun."
The Chinese-American singer-actor, who is based in Taiwan, rose to fame in 2001 when he became part of F4, a boy group comprising TV stars Jerry Yen, Vic Chou, and Ken Chu, who triggered a frenzy throughout Asia with the drama series Meteor Garden, based on the wildly popular Japanese comic Hana Yori Dango.
The hit series and its sequel made overnight superstars of the group members, and led to not just more drama roles, but also product endorsements and a string of successful albums and concert tours.
Now, 16 years later, Wu is one of the most popular stars in Taiwan, Hong Kong and the Chinese mainland.