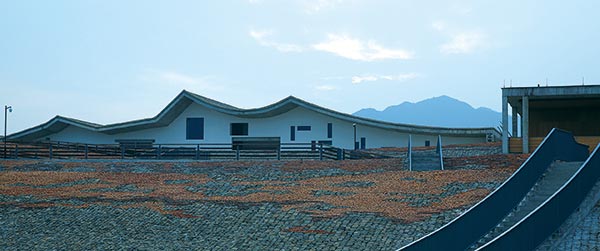 A view of the roof of the Gongwang Art Museum. The building is part of an arts complex that houses an art archive and another museum. [Photo provided to China Daily]
When officials of Fuyang approached Wang Shu in 2012 with an offer to have him design an arts center, the Pritzker Prize-winning architect had a rather unusual condition.
He wanted to have a hand in designing homes for the local villages as well.
Fuyang is located about an hour's drive from Hangzhou, Zhejiang province and it sits on the north bank of the Fuchun River, a place renowned for its natural beauty. Earlier this year, it became a district under the city of Hangzhou.
The local administration promptly acceded to Wang's request. The prospect of securing the services of this famous figure in the architecture world was reason enough to do so. In a display of just how much they revered Wang, the local authorities dedicated a prime piece of land near a mountain and by a river to the arts center.
Should that piece of land in this location be used for real estate development today, it would be valued at a staggering 1 billion yuan ($150 million). Such was Wang's influence.
The arts center will comprise three buildings, Gongwang Art Museum, Fuyang Archives and Fuyang Museum, all of which will be designed by Wang. The Gongwang Art Museum is already open to public while the other two segments are still undergoing construction.
Wang, 53, is the first Chinese to win the world's top prize in architecture. Based in Hangzhou, Zhejiang province, he is currently the dean of the School of Architecture at the China Academy of Art.