Caucasian destination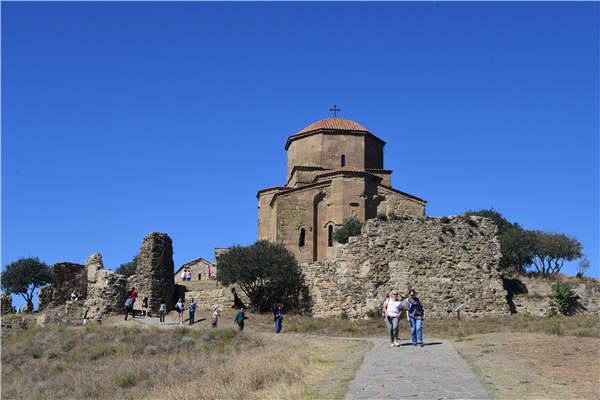 Jvari Church was built in the 6th century to celebrate the country's conversion to Christianity more than 100 years earlier. Photos provided to China Daily
Georgia charms with amazing architecture, multiculturalism and its claim as the land that invented wine. Mike Peters explores its allures.
You can tell if a country is a prize by checking how many times it has been invaded.
By that measure, the little Caucasus land of Georgia is a treasure indeed.
Long an important Eurasian crossroads, Arabs overran the place in 645, making the captured capital, Tbilisi, an emirate for four centuries. Later came the Mongols, Huns, Persians, Ottomans and Russians in turn.
Visitors today will encounter all of those influences and more, coming together in a Caucasian people with a distinctly European outlook.
An ancient wine culture is flourishing, and beautiful Orthodox churches have become social centers for a newly energized faithful.
After relative isolation in the Soviet era, the old Silk Road hub is back to its old ways, making a trade pact with the European Union and a brand-new free-trade agreement with China.
The country's scenic charm is apparent as soon as you land in Tbilisi, which straddles the Mtkvari River and commands good views of the surrounding mountains.
The Old Town gives smartphones and selfie sticks a workout as tourists flow through narrow lanes amid colorful two-story houses fronted with charming balconies. There are lots of small wine bars and an occasional tree-lined square.
The village feeling is enhanced by street stalls jammed with colorful rugs and fabrics, fresh pomegranates and figs, vegetables, honey, fragrant cheeses and nuts fresh from the surrounding countryside.