Caucasian destination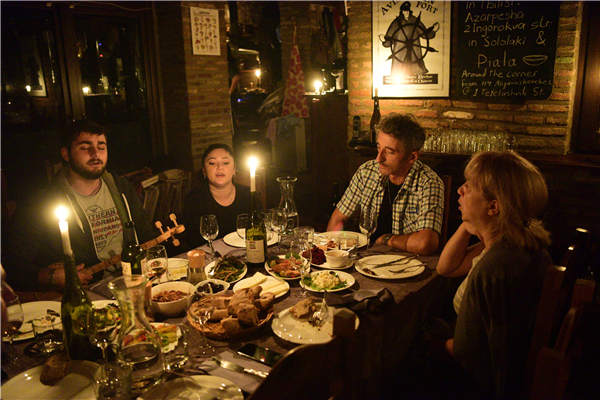 The Pheasants Tears winery in the Kakheti region is famous for its traditionally produced wines.
Eat, drink and be merry
Hospitality is Georgia's middle name. Much like in China, people are as quick to ask "Have you eaten?" as they are to say hello.
Whether you are eating at a restaurant or a private home, a dinner may end with the appearance of a guitar and a round of songs. You won't know the words-no one asked us to sing Take Me Home, Country Roads-so just sit back and enjoy.
The country also lays claim to be the birthplace of wine: Ancient stone vessels with vinegary grape residues have been dated back to 6000 BC, and people who have been making and drinking wine for 8,000 years clearly know how to have fun.
Wine bars proliferate in the capital as well as in the Black Sea resort of Batumi and the eastern region of Kakheti, the country's wine-producing heartland.
It's hard to escape being offered a glass almost everywhere you go, which can keep tourists pretty mellow on an afternoon or evening stroll.
Say, hypothetically, that you emerge from one of Tbilisi's hopping nightspots at 5 am a bit bleary-eyed. You'll want to follow the locals to a surefire restoration: the sulfurous warm waters of a bathhouse.
Tbilisi is famous for its hot springs-the city's name comes from the Georgian word tbili ("warm")-and there are several bathhouse options in the capital's Old Town area.
Most are not modern or luxurious. They're comfortable and safe, and usually offer private rooms with their own pools if you aren't keen to get naked with strangers.
We checked out what is reputed to be the fanciest: Royal Bath, with mosaic-domed private rooms and helpful attendants bearing tea and beer.
There's also a bonus across the street: The popular bistro Culinarium offers a great brunch and a bar with a cheeky menu of hangover cures.