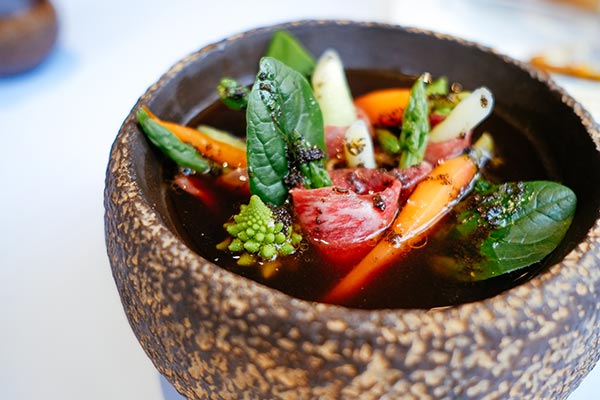 Beef soup with vegetables and wagyu steak [Photo provided to China Daily]
The Spanish restaurant Puerta 20 has just signed Spanish celebrity chef Rodrigo de la Calle, 40, to be its executive chef.
The Beijing restaurant located near the entrance of the 20th stand of the Workers' Stadium is very popular with Spanish food lovers and football fans.
The chef, who has been cooking since he was 18, is globally known for "gastrobotany", which means using botanical elements in haute cuisine. He jointly invented the concept in 2000 with Santiago Orts, a botanist.
In 2011, his restaurant Rodrigo de la Calle Restaurant, in Aranjuez, south of the Spanish capital Madrid, got one Michelin star. And his new restaurant, El Invernadeo, is about to join the Michelin list, as he has been invited to Michelin's celebration dinner.
The chef's move to China is not a sudden one.