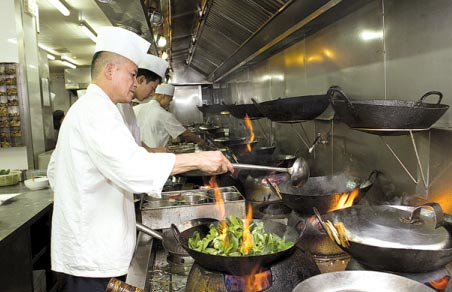 Lao Zheng Xing is the go-to place for classic Shanghainese dishes such as fried river shrimps. [Photo provided to China Daily]
Lao Zheng Xing, a restaurant located in a six-story building in Shanghai's Huangpu district, got another nod of affirmation for its culinary excellence when it was awarded one Michelin star.
The Michelin Guide Shanghai, which marked the French publication's first foray into the Chinese mainland, awarded 26 restaurants with a total of 31 stars.
The guide has since its debut sparked controversy, with many experts in the local dining scene commenting that there is a skew toward Cantonese and hotel restaurants and how the guide is hardly representative of Shanghai's effervescent dining scene.
Lao Zheng Xing's reception to its latest accolade was rather underwhelming as well. In fact, no one turned up at the awards ceremony to accept the honor. The restaurant management told China Daily that they were not informed of the event beforehand.
Hu Bing, the executive chef of Lao Zheng Xing, was seemingly nonchalant about the win, too.
"Trouble," says the 41-year-old Shanghai native, when asked what this award meant to the restaurant.
"We have not taken a break since the mid-autumn festival. This award means we now have to deal with even more customers."
The 400-seater restaurant says that business has spiked by 25 percent since the results were released, with more young diners, instead of the regular crowd comprising senior citizens, pouring in than before.
Opened by Xia Shunqing, the son of a businessman from Wuxi, Jiangsu province, who was born and raised in Shanghai, Lao Zheng Xing is actually a copycat establishment.
The original, called Zheng Xing, was set up in 1862 by two businessmen from Ningbo, Zhejiang province.
The duo, Zhu Zhengxing and Cai Renxing, had initially opened a grocery stall in Shanghai. After the business failed, they came across a chef from Wuxi and decided to make a comeback with a restaurant which offered a hybrid cuisine that combined the greasy nature of Hui (Anhui) cuisine and refinement in Xi (Wuxi) cuisine.
The idea turned out to be a hit with the locals, who were willing to fork out more money to savor something other than the coarse Anhui cuisine that was predominant in Shanghai at that time.
According to library archives, Zheng Xing had during its peak in the 1930s attracted people to set up more than 120 copycat establishments in Shanghai.
However, only Xia's establishment managed to withstand the test of time, running till the 1950s when it was taken over by the municipal government as a state-owned company.
Lao Zheng Xing has since been the go-to place for classic Shanghainese dishes such as fried river shrimps and braised pig's intestines with alfalfa sprouts.
The restaurant's continued success over the years can be attributed to its team of loyal and highly skilled chefs. Wang Hui, a 27-year-old chef at Lao Zheng Xing, first set foot in the restaurant about a decade about. After working in the restaurant for a year, Wang was taught how to prepare the river shrimps, something that he has perfected as an art form today.
Every day, Wang deep-fries hundreds of plates of shrimps that are no larger than a thumbnail. The shrimps are dunked into boiling oil that measures around 200 C for exactly 18 seconds-no more, no less-before being scooped up, revealing a crisp, orange shell that can be consumed. This cooking method quickly dehydrates the shell while retaining the juices in the meat within.
"No one makes them better than us. And I am not saying this simply to pride ourselves as veterans," says Hu, in a rare display of pride not seen in Chinese chefs who usually prefer to be discrete about their achievements.
However, the dishes that are served at Lao Zheng Xing today, admitted Hu, aren't exactly the same as those from a century ago. The braised pig intestines they serve now, for example, do not have the pungent odor like how it normally would in the past.
Hu says that his job as the executive chef is to "modernize Shanghainese cuisine" while maintaining the original character of the dish. The restaurant has through the years been making their dishes a little more bland in order to cater to today's health-conscious customers.
"We've reduced the usage of sugar and oil in our dishes by about 15 percent. That's the best we can do without compromising the taste," says Hu.
"Creativity is not something we look for. People come to Lao Zheng Xing for traditional Shanghainese cuisine-our job is to satisfy their palates and hearts, not attempt to be fancy."