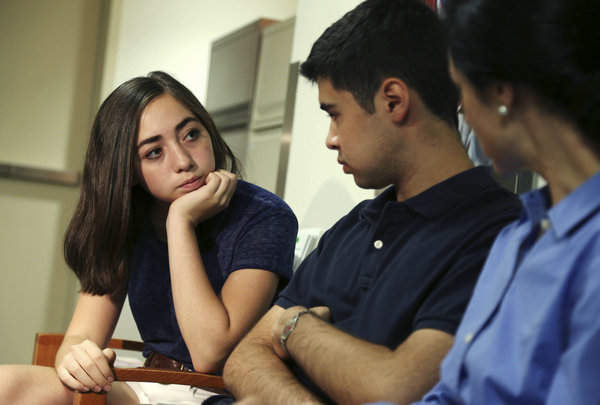 Evee Bak, left, talks with her brother Tom Bak while they wait to talk with reporters at the Seaver Autism Center at Mount Sinai Hospital in New York. Tom has autism but Evee doesn't. The gender effect is a hot topic in autism research and one that could lead to new ways of diagnosing and treating the condition. [Photo/Agencies]
Think autism and an image of an awkward boy typically emerges. The developmental disorder is at least four times more common in boys, but scientists taking a closer look are finding some gender-based surprises: Many girls with autism have social skills that can mask the condition. And some girls are born without autism despite the same genetic mutations seen in boys with the condition.
The gender effect is a hot topic in autism research and one that could lead to new ways of diagnosing and treating a condition that affects at least one in 68 US children.
Better understanding of gender's role is key to helping the most people, says Kevin Pelphrey, an autism researcher at George Washington University. "Autism may not be the same thing in boys and girls."
What science shows
The causes of autism aren't known but various genetic mutations are thought to play a role and outside factors including older parents and premature birth also have been implicated.
Brain imaging suggests there may be an additional explanation for why many girls with autism have more subtle symptoms, Pelphrey says.
"The surprising thing we are finding is that even in girls who clearly have autism," brain regions involved in social behavior that are normally affected are less severely impaired, he says.
Recent studies on autism-linked genes have found another gender difference.
Girls can have the same kinds of genetic mutations seen in boys with autism, "and even need to have twice as many mutations on average to actually manifest with autism," says Joseph Buxbaum, director of an autism center at Mount Sinai medical school in New York City.
Buxbaum is among researchers trying to identify a "protective factor" that may explain how some girls at genetic risk remain unaffected, perhaps a protein or other biological marker that could be turned into a drug or other therapy to treat or even prevent autism. That possibility is likely a long way off, but Pelphrey says this line of research has prompted excitement among autism scientists.