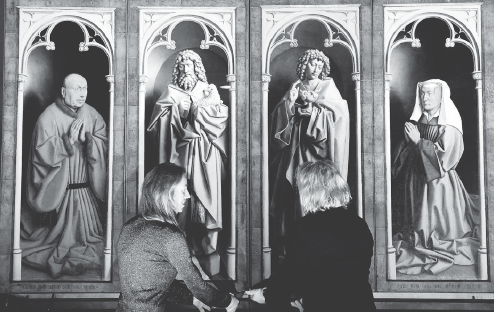 The official unveiling of the restored exterior panels of The Adoration of the Mystic Lamb, an altar piece painted by the Van Eyck brothers in 1432, at Saint Bavo Cathedral in Ghent. [Photo/Agencies]
A painstaking restoration of a 15th-century Flemish masterpiece is revealing the long-lost detail and splendor that helped make the altarpiece one of the world's most stolen artworks.
The Adoration of the Mystic Lamb by the Van Eyck brothers was unveiled 600 years ago at Saint Bavo's Cathedral in Ghent, but since then its full glory has dimmed, after being split into pieces, seized by Napoleon, then the Nazis, and nabbed by thieves.
"You could say it is like the rediscovery of Michelangelo's Sistine Chapel after its restoration," Marie Postec of Belgium's Royal Institute for Cultural Heritage told AFP.
"The original was hidden by layers of dirt and alterations, the colors had completely faded. Today, the same thing is happening here, and we have the chance to witness its rebirth," Postec said.
The giant altarpiece, which measures 4.4 meters by 3.4 meters, is attributed to Hubert Van Eyck and his better-known brother Jan, and was completed in 1432 when Ghent in modern-day northern Belgium was the wealthy powerhouse of the European wool cloth trade.
The Mystic Lamb depicted on the lower central internal panel represents Jesus, and also refers to the emblem of the wool merchants guild which played a hugely important role in the city.
Nazis, Napoleon and a saltmine
Returning a restored Mystic Lamb to St Bavo's Cathedral is nearly the end of the story but there is-literally-one piece still missing.
In 1934, thieves stole two of the work's 12 panels. One was recovered but the other, that of The Just Judges, remains unaccounted for to this day.
That capped an incredible history of upheaval for the artwork that began in the Reformation, when it was hauled up the cathedral tower to protect it from attacking Protestants.
Two centuries later, panels that had been seized by the French were returned to the church by the Duke of Wellington after his victory at Waterloo against Napoleon.
Then in World War II, the altarpiece was sent to the Vatican for protection but again ended up in France and was seized by the Nazis who hid the panels in an Austrian salt mine. The US army eventually saved them.
The complex work includes hinged panels that can be opened and closed to offer worshippers two very different views.