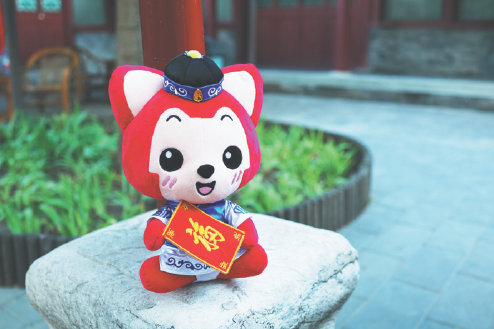 A show featuring a cartoon image of a red fox dressed in the traditional costume of a prince was staged in Prince Kung's Mansion in Beijing in July. [Photo provided to China Daily]
The country's museums are going all out to reach the public - with cartoons, cushions and loads of trinkets
Something quirky was happening in the usually rarefied, straight-laced confines of Prince Kung's Mansion in Beijing. A show whose star turned to be a red fox dressed in the blue and white long suit of a prince was being held in the mansion, and hundreds of people, mostly young, had flocked to see it.
More other red foxes, with round hats, held in their hands a rendering of the Chinese character fu, meaning lucky, inspired by Emperor Kangxi's representation of fu as a birthday gift to his grandmother in 1673. It is part of the collection of Prince Kung's Palace Museum, as the mansion is officially known, and reproductions of it are the most popular products the museum's store sells.
In July the museum welcomed to its promotional team a cartoon image that will help it develop its merchandise. The designer of the red fox, called Ali, was the company Dream Castle Culture of Beijing, which in conjunction with the museum has produced other merchandise such as chopsticks, dolls, fans, key rings and lanterns.
"We hope to attract young people and develop more interesting products in a market for museum merchandise that is booming," says Chen Xiaowen, deputy director of Prince Kung's Palace Museum.
The museum shop sells more than 100,000 scrolls a year inscribed with the character fu, and it took in a total of 70 million yuan ($10.5 million) last year, Chen says, most of their buyers being middle-aged tourists.